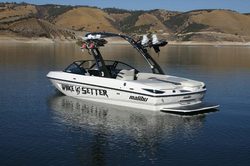 I was blown away before the cover even came off!
Merced, CA (Vocus) October 7, 2009
WakeWorld Nation calls it "The Ghost," but this new 2010 Malibu Wakesetter VLX is no apparition. It is a real wake-making machine and once again the official tow boat for wakeboarding's longest running online magazine. WakeWorld.com just recently chose Malibu Boats as their official wakeboard boat for the 5th consecutive year. Already creating a posting frenzy on WakeWorld.com's discussion board, this Wakesetter VLX will be featured on the web site in extreme detail over the next year. Viewers can learn all about Malibu's flagship wakeboard boat online as well as check it out on the waters of So Cal.
Additional Links
WakeWorld's Ghost on Flickr.com
MaliView 6.5" Dash System
They call it "The Ghost" because the WakeWorld.com Malibu VLX is all white. That and because it haunts the waters of Southern California with big scary customizable wakes in addition to a boatload of new 2010 Malibu innovations. This year's WakeWorld.com VLX rocks a weightless fold-down Illusion G3 tower with four new Titan Slide-off Spinner Racks, a new color-matched fiberglass floor with snap-out carpet, new Wakesetter hull graphics, the new MaliView 6.5" Dash System with video and the protection of Malibu Boats Salt Water Package, just to name a few features. The WakeWorld.com boat appears to be floating even in tow thanks to the loaded bright white Tandem Axle Salt Water Trailer built by Boatmate.
This is the 5th time in the last five years WakeWorld.com has chosen the Malibu Boats Wakesetter VLX as the site's official wakeboard boat. And according to Dave Williams, WakeWorld.com's Owner/Editor, this is why he continues to make Malibu Boats his choice. "Probably the biggest reason why I think this [Malibu Wakesetter VLX] is the best boat out there is the fact that you can flip a few switches or engage a Rider Preset and you've got a wake that's got a great shape and is more than big enough for 90% of the riders out there. The VLX is good to go right out of the box!"
WakeWorld.com Discussion, one of the most trafficked rider discussion boards online, was the first forum to publish photos of the site's new wakeboard boat. That should be expected, but the photos were posted before Williams had even seen his new boat. The images were posted by a WakeWorld.com subscriber. The VLX happened to make a few stops at other Malibu Boats Dealerships before arriving in So Cal. Photos were snapped, posted and the rave reviews began.
When Williams finally saw his new Wakesetter VLX in person this is how he reacted. "I was blown away before the cover even came off!" Williams explained, "Not only did the Boatmate trailer look unbelievable, but the hull has some great new angles that look really sharp." Williams went on, "Of course, once the cover came off and the tower went up, I was even more impressed."
WakeWorld.com has been online since 1996 and the site's content includes news, articles, interviews with pros and local riders, board and binding buyers guides, trick lists and tips, tournament info, rider event details, wakeboard school info, contests and giveaways and much more. WakeWorld.com hosts over 150,000 visitors per month and is growing along with big wake water sports.
If you're not in a position to witness the WakeWorld.com Ghost on the water in Southern California take a trip to your local Malibu Boats Dealer to check out the 2010 Wakesetter VLX in person.
About Malibu Boats: Build the best boat possible, give boat owners the best value and enjoy the workplace. Since Malibu Boats' inception in 1982 the mission has been this simple. On the journey from building 100 custom ski boats a year in a small shop, to 19 Boat of the Year Awards and their standing as the world's number one selling wakeboard and water ski boats, Malibu has become an exemplary American boat company.
To stay current on all Malibu happenings visit the Malibu Boats blog and keep in touch with Malibu Boats on Twitter and Facebook.
# # #