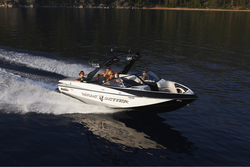 Merced, CA (Vocus) October 1, 2008
The innovative designs proposed for the new 2009 VLX had to be monumental before the Malibu Boats' Research and Development Team would even entertain the idea of reengineering the most popular wakeboard boat in the world. It's no surprise that the all-new Wakesetter VLX is turning out to be one of the greatest Malibu Boats model introductions ever. The VLX is turning more heads than ever with a completely new look. This new Wakesetter delivers bigger, cleaner wakes and precise handling along with a level of luxury never before seen in a wakeboard boat. The list of features and options calling the VLX home is making this Malibu the #1 choice of the wakeboard nation all over again.
Additional Links:

"...hands down amazing, I loved every inch of it." - Wrote John Dombroski, who tested the 2009 VLX with Jeremy Young, wrote a review of that experience and posted it on TheMalibuCrew.com. Dombroski and Young both own later model VLXs and are doing research for their next purchases.
The Wakesetter VLX went back to the digital drawing board and emerged for the 2009 model year with a new hull design optimized for handling and wakeboard performance. The chine lines have been straightened to perpetuate tight controlled turns under power. Even weighted with ballast and a boat load of spectators the VLX can be steered in and out of tight turns easily. The strakes are sharp at the front of the boat and flat in the back for a great combination of water displacement at wakeboarding speeds and smooth ride lift when cruising across the lake. The hull transitions have been reshaped to change the flow of water beneath the boat and sculpt a better wakesport wake that can be further customized with Malibu wake enhancement tools.
The new wake you'll find behind the VLX is thanks, in part, to innovative hull design, but the true power behind these professional-level ramps is the versatility created by Malibu-unique tools. This boat can offer as much as 1250 pounds of Malibu Launch System (MLS). Malibu's hard tank sub-floor quad-ballast system is one-of-a-kind in the industry. The Wakesetter VLX also motors off the factory floor with Precision Pro Speed Control, an exclusive, easy-to-use speed control system. Married with the available Patented Power Wedge and the wake-making characteristics of this Wakesetter's Wake hull the VLX will crank out your favorite wakes all day long. Once you find the perfect combination of tools in this custom wake factory, you can save those settings as a Rider Preset. This wakeboard boat offers push-button personal presets for setting wake size, shape and boat speed in one easy-to-access profile. Not sure what your perfect ride looks like yet? Use one of Malibu's pre-programmed factory presets to get you started. Customize your profile when you find that winning combination. And don't worry about the gas it takes to pull a rider, even with the Power Wedge set to as much as 1200 pounds of displacement, Malibu's new Auto Wedge feature reduces fuel consumption by 1/3 and takes 30% less time to get on plane when pulling a rider.
And for those who spend more time in the driver's seat than behind the boat, Malibu Boats has designed an experience just as invigorating. The Wakesetter VLX has a new hand-wrapped dash that incorporates the tools you have wished for to easily command boat functions. Two banks of MUX switches with LCDs join the available Malibu Rockford Fosgate Stereo System controls, traditional 5-inch Medallion gauges with built-in LCDs and a center-mounted LCD screen. These components are all mounted on the front of the new dash for extremely easy access and close inspection. The center LCD can be upgraded to a new 6.5" color LCD screen with 10-button navigation. MaliView, as this optional system has been named, adds elements of intuitive control, monitoring and customization to the VLX as well as plays video from a number of sources.
The VLX radiates a sophisticated yet aggressive sense of style with a new customizable two-tone upholstery design, the only one of its kind in the Malibu boat line. Interior amenities like cast stainless steel grab handles, new available Rockford Fosgate Speakers, oversized sized stainless cup holders, hand-upholstered interior pieces and an optional rear LCD embedded MUX switch panel create a boat as accommodating on the inside as it is empowering in the water.
It's true, the World's most popular wakeboard boat is even better for 2009. Visit your local Malibu Boats dealer and check out the Wakesetter VLX.
Specifications:

Length: 21' 6"/6.55m
Beam: 100"/2.54m
Draft: 24"/0.61m
Capacity: 11 persons
Weight: 3500 lbs./1587k
Fuel: 46 gal./174L
About Malibu Boats:
Build the best boat possible, give boat owners the best value and enjoy the workplace. Since Malibu Boats' inception in 1982, founder and CEO, Robert Alkema's mission has been this simple. On the journey from building 100 custom ski boats a year in a small shop, to their standing as the world's number one selling wakeboard and water ski boats, Malibu has become an exemplary American boat company.
To stay current on all Malibu news subscribe to the Malibu Boats News RSS feed. Visit the Malibu Boats web site or the Malibu Boats blog.
For additional information contact Malibu Boats Public Relations at 209-383-7469, visit http://www.MalibuBoats.com, or email Amy Mauzy (amym @ malibuboats.com), Ellery Sanchez (ellerys @ malibuboats.com) or Adam Perez (adamp @ malibuboats.com).
Visit the Malibu Boats ftp site to download hi-res images relating to this news release.
ftp.malibuboats.com
Username: public
Password: public123
Directory: /2009Images/WakesetterVLX/
###