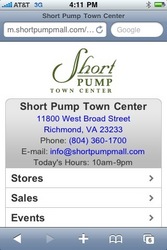 Mobile marketing offers new and effective ways to engage with shoppers on our premises
Denver, CO (Vocus) August 21, 2009
Mallfinder Network announced new mobile marketing services to help shopping centers and their retailer tenants connect with shoppers on-the-go. The leading provider of marketing services for the shopping center industry, Mallfinder recently completed SMS campaign trials on behalf of several clients, and also launched mobile web versions of twenty shopping center websites the company manages on behalf of Forest City Enterprises.
"Mobile marketing offers new and effective ways to engage with shoppers on our premises," said Jane Lisy, Vice President of Marketing for Forest City. "Smart-phones are increasingly central to our lives, and we consider them an influential source of product information and promotions for our shoppers."
Findings from a recent Universal McCann study indicate that 81% of smart-phone users interact with mobile media while shopping. The study revealed that 53% of smart-phone users click on ads and 35% request more information or a coupon. Mallfinder delivers real-time sale and event updates to shoppers when they are in the shopping center.
"The mobile experience is a highly personal, customized medium," stated John Dee, president of Mallfinder. "Mobile allows brands to connect with shoppers like never before, but it's critical we define our services to engage with consumers in a relevant and permission-based manner. Mobile search is a prime opportunity for us to deliver the retailer content we manage."
Mallfinder will soon launch a mobile web version of Shoptopia.com , the award-winning social shopping community designed to build relationships among shoppers, malls and brands. The text message (SMS) solutions the company has built for its clients include Instant Win, Sweepstakes and Loyalty Club Blast campaigns. Mallfinder is also developing location based services (LBS) applications for the iPhone and other GPS-enabled smart-phones, to deliver contextually relevant offers and promotions to shoppers while they are on the premises of their shopping center.
Mallfinder Network LLC is the leading developer and provider of integrated marketing services for the shopping center industry. Mallfinder represents over 260 shopping centers nationwide, connecting millions of shoppers with brands, retailers and sponsors. Privately held and based in Denver, Mallfinder has serviced leading companies in the retail industry with interactive marketing services since 1997. For more information on Mallfinder Network, please visit http://www.mallfinder.com .
Contact:
Lawrence Phipps
Mallfinder Networks
303-877-7444
lawrence(dot)phipps(at)mallfinder(dot)com
media(at)mallfinder(dot)com
# # #