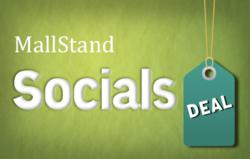 This new partnership marks the first time we are able to make our daily deals available nationally.
Hoboken, NJ (PRWEB) June 18, 2013
MallStand, the social shopping app, has announced that they have partnered with Million Dollar Smile Cosmetic to run their first national social deal. The daily deal promotion that has recently been launched in the MallStand Socials section is for a large discount on the Million Dollar Smile teeth whitening system.
"MallStand has been providing a variety of daily deals in the Socials section for the residents of Hudson County and surrounding areas, but this new partnership marks the first time we are able to make our daily deals available nationally and with none of the extra shipping costs," said MallStand team member Sam Gherman.
"The MallStand team has done a tremendous job working with the highest quality merchants in the area in order to develop a solid base of loyal customers," said Andrew Jensen, Founder and CEO, "MallStand hopes to build upon this new relationship with Million Dollar Smile and continue to offer their teeth whitening system to our users across the country."
Through this Socials offer, users can enjoy the same results as the leading in-office dental whitening procedures from the comfort of their home. The deal for the teeth whitening system originally valued at $228 is available for only $30 and promises a "whiter and brigher smile for less money and less time". The social deal for the Smiley White System and Smiley White Pen will be extended for an extra week due to the deal's popularity.
Million Dollar Smile's special dental grade whitening formula has been safely tested and made in USA labs only.
About MallStand
MallStand is a web and mobile social shopping platform transforming traditional online shopping. By utilizing various social networking tools MallStand creates an environment that fosters communication between users and merchants. MallStand provides shoppers with a centralized online location to mingle, shop, and share.