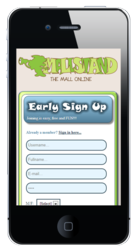 This is a must have app for savvy shoppers this spring shopping season
Hoboken, NJ (PRWEB) May 07, 2013
MallStand unveiled the new mobile app for the iPhone. The MallStand app, which is available in the Apple App store free to download, allows iPhone users to browse through thousands of products, buy and sell goods, order food, and check out the latest social deal with a swipe of a finger.
"This is a must have app for savvy shoppers this spring shopping season" said Andrew Jensen, Founder and CEO of MallStand LLC. "The MallStand Developers have been working diligently to bring the MallStand mobile app to users of all operating systems."
Browse through thousands of Products and shop your favorite stores. Visit the Food Court where users can order food from their favorite local restaurants to be delivered to their door. Stop by the consumer-to-consumer marketplace where users can buy and sell new or used Goods or find their favorite local boutiques. Users can also check out the daily deal sections to find the best Socials and biggest discounts on goods and services in the area. Do all this and more with the MallStand social shopping app.
Other features of the MallStand app include:

Ability to enhance the MallStand experience by integrating the user's Facebook and Twitter accounts.
Share and save the best deals and products by utilizing the "List" feature.
Directly communicate with friends, favorite brands, and local businesses.
Use the new Local Pages, a socially connected directory to find local businesses, events, and news.
About MallStand
MallStand is a web and mobile social shopping platform transforming traditional online shopping. By utilizing various social networking tools MallStand creates an environment that fosters communication between users and merchants. MallStand provides shoppers with a centralized online location to mingle, shop, and share