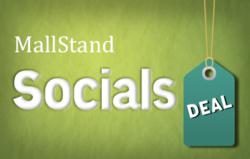 The MallStand team is excited to be able to start giving back to the community and have the opportunity to connect businesses to the local shoppers.
Hoboken, NJ (PRWEB) April 16, 2013
MallStand, an up-and-coming tech start-up in Hoboken, New Jersey announced the start of their Socials for a Cause Campaign earlier this week.
"This week's social deal marks the beginning of MallStand's Socials for a Cause project. MallStand partners with a local charity and a local business to bring customers discounted deals on goods and services, then MallStand donates 100% of our commission revenues to the charity organization," said founder and CEO Andrew Jensen. "Residents around the Hoboken and Jersey City area are among the lucky few who are able to take advantage of the current Socials for a Cause deal."
The members of the MallStand team are excited to be able to start giving back to the community and have the opportunity to connect businesses to the local shoppers. Vendors working with MallStand are thrilled to participate in Socials for a Cause. Both the MallStand management and vendors expect this charity venture to generate a surge of interest from potential new customers.
Havana Café & Lounge in Hoboken, NJ is kicking off MallStand's Socials for a Cause program this week in conjunction with the Jubilee Center, an organization committed to supplementing the educational needs of children. They work with the local public schools to provide the necessary support and opportunities for our children to become the best that they can become.
Havana Café & Lounge is offering a discounted lunch for two with over 60% off the regular price. The Jubilee Center will use MallStand's donations to continue to equip children and families at risk with the tools not only to survive, but to overcome the many barriers they may face.
Next week's social will feature a deal from One Podiatry in Jersey City, New Jersey. One Podiatry is the ultimate podiatry center with locations throughout New York and New Jersey. A portion of the proceeds from next week's social deal with One Podiatry will go to AngelaCARES, Inc. Their mission is to serve as an advocate and support system for senior citizens, a support system for senior caregivers, and a mentor to the youth.
About MallStand
MallStand is a web and mobile social shopping platform transforming traditional online shopping. By utilizing various social networking tools MallStand creates an environment that fosters communication between users and merchants. MallStand provides shoppers with a centralized online location to mingle, shop, and share.