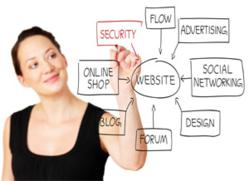 St Johns, FL (PRWEB) January 27, 2012
SiteLock LLC (http://www.sitelock.com), a global leader in website security solutions for online businesses, and Jamcracker, the cloud services brokerage enablement company, today announced that SiteLock will be available through the Jamcracker Services Delivery Network (JSDN). SiteLock is a highly effective, affordable website scanning service that can identify existing and new strands of malware, viruses, spam, SQL injections, and cross-site scripting. Additionally, SiteLock checks for vulnerabilities that may be discovered within applications or on a user's network.
JSDN allows service providers, resellers and vendors to quickly and efficiently deliver cloud services to businesses and consumers. This partnership will enable Jamcracker to offer SiteLock through its global services delivery network of distribution partners including communications and IT services providers.
"With more than 7 million websites hacked in 2011 and over 6,000 websites blacklisted each day by search engines, there is a huge opportunity for service providers to proactively help their customers," said Givonn Jones, SiteLock business development manager. "SiteLock helps prevent small businesses from being impacted by these detrimental events, and we are committed to providing an affordable, comprehensive website security solution to all online businesses, from a personal blog to a 2,000+ page ecommerce site. The partnership with Jamcracker gives service providers access to an easy way to build a cloud security practice without a huge investment of time or resources."
"Jamcracker enables communications and IT services providers to create their own branded marketplaces and offer 'best-of-breed' cloud services to their business customers. It also enables cloud services brokerages for IT departments within larger enterprises so they can provision, deliver, and manage internally and externally hosted services for their organizations' employees," said Steve Crawford, vice president of marketing and business development at Jamcracker. "We are committed to aggregating and delivering the broadest selection of leading cloud services, and are pleased to extend SiteLock through our services delivery network."
About SiteLock
Established in 2008, SiteLock has helped small businesses protect their website and reputation through website security services and website scanning. SiteLock offers the most affordable and complete website security solution available on the market, protecting against malware, spam, viruses and other vulnerabilities. SiteLock currently protects over 500,000 customers worldwide and scans over 2 million pages daily for threats. Many of these customers are online merchants that rely on their website as their business storefront. Each subscription of the service includes SiteLock's Trust Seal, which is proven to increase sales and conversions by more than 10%. SiteLock is headquartered in Jacksonville, Florida and has offices in Scottsdale, Arizona. For more information, visit http://www.SiteLock.com or call 877-257-9263.
About Jamcracker
Jamcracker enables service providers, IT providers, and enterprise IT organizations to become cloud services brokerages, allowing them to unify cloud services delivery and life-cycle management for their customers, their employees, and through their channel partners. The Jamcracker Services Delivery Network (JSDN) enables service providers and distributors to get to market quickly and cost-effectively with the ability to aggregate and deliver cloud services. Jamcracker was founded in 1999 by K.B. "Chandra" Chandrasekhar, who previously founded Exodus Communications and led it through the most successful IPO of 1998. Jamcracker was recently designated by Gartner as a 'Cool Vendor in Cloud Services Brokerages.' For more information, visit http://www.jamcracker.com.
###