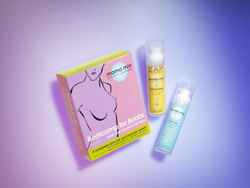 Within 3 days, I kid you not, my butt looked better
Huntington Beach, CA (PRWEB) October 7, 2008
Best known for keeping celebrity moms like Jessica Alba, Christina Aguilera and Gabby Reece in top form, Mama Mio's award-winning bodycare products improve the tone, texture and elasticity of skin. To go beyond skin deep, Mama Mio enlisted the help of London celebrity trainer Efua Baker to create their 3-minute no gym required exercise routines to lift and tone the muscle structure beneath for a complete body part makeover.
Launching this month, the first two kits in the Bootcamp series are Bootcamp for Boobs and Bootcamp for Butts.
Bootcamp for Boobs $99
A "boob job in a box" created to perk the profile in 30 days, this kit contains two skincare products that work synergistically with each other to lift, firm and tighten the delicate skin on the bust and two 3-minute pectoral exercises to build the muscle structure underneath. Muscles targeted are the pectoralis major and minor, with an additional toning benefit to the biceps, triceps, deltoids, rhomboids and latissimus dorsi.
The skincare products in the "Boob" Kit include the award-winning, best-selling Boob Tube firming bust cream and new mom savior Tummy Toner. The building blocks in Boob Tube are Omega 3, 6 and 9 to nourish and maintain strength and elasticity and antioxidants to both repair and prevent collagen degradation. Key ingredients include CoQ10, Avocado Oil, Rosehip Seed Oil, Shea Butter, Sweet Almond Oil, Dandelion Root and Wild Yam Extract. Tummy Toner is a "facial peel" for the body. This all-over retexturizing body serum lifts, tightens and tones to combat crepey, slack skin from weight loss or pregnancy. With Papaya Enzymes to soften and exfoliate, Hyaluronic Acid to plump up the skin by attracting up to 1000x its weight in water and Soy Protein Complex that instantly tenses the skin surface for a tightening effect.
Bootcamp for Butts $160
Bootcamp for Butts is a complete bottom and thigh skincare and exercise system designed to lift the butt in 30 days. It includes a 3-step skincare routine to smooth, soften, tone, tighten, increase circulation and reduce the appearance of cellulite. To ensure more dramatic results, the two simple daily exercises strengthen and tone the muscle structure that supports the skin. Muscles targeted are the gluteals, including the gluteus maximus, medius and minimus and the adducter and abducter muscles (inner and outer thighs).
The skincare system in Bootcamp for Butts includes Body Buff, Tummy Toner and Shrink-to-Fit. Body Buff exfoliating scrub is a blend of Sweet Almond Oil, Chamomile, Vitamin E and micro-ground Pumice. The action of buffing stimulates circulation and improves cell regeneration. Tummy Toner all-over firming body serum lifts, tightens and tones. Shrink-to-Fit Cream combats cellulite, because lipo sucks. A sink-in-quick serum-cream packed with proven ingredients to help reduce the appearance of cellulite, restore elasticity, reduce water retention and sponginess and increase firmness, it's rich in Adiposlim™, proven in lab testing to help shrink fat cells and prevent new fat cells from forming.
Launching Fall 2008. Available at mamamio.com.
What mom bloggers are already saying about Mama Mio Bootcamp Kits:
"Within 3 days, I kid you not, my butt looked better," The Fashionable Housewife
"…when desperation calls and gravity sets in, might I suggest Mama Mio's new Bootcamp for Boobs?" CoolMomPicks
The Mama Mio range is all about improving the tone, texture and elasticity of skin. The brand is leading the new movement in skincare - facial quality bodycare focusing on the specific benefits women want, to achieve and maintain fit skin for life. Great skin shouldn't be exclusive to the face. Look after every inch of the body and feel great in your skin.
Mama Mio was founded in London by three beauty experts . Between them, they have 45 years experience in the beauty industry and, more importantly, 62 years experience as mothers. With seven children in all, they know motherhood takes a big toll on a mama's skin. Whether her baby is in her tummy or in college, they have created Mama Mio skincare to help women feel good in their supermama skin.
###