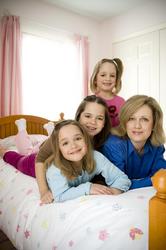 At the time of my diagnosis, I had never felt better, unaware of my developing cancer
Arlington Heights, Ill. (PRWEB) May 8, 2009
Being healthy and active doesn't mean a woman isn't at risk for breast cancer. In 2007, Nicky Torres of Rolling Meadows, Ill., squeezed her annual mammogram into the middle of a hectic day that was filled with school runs and other errands. She expected nothing more than the standard letter telling her to come back in another year. Instead, she received a phone call informing her that she would need a biopsy.
Her annual mammogram led her to a cancer diagnosis at age 39. "At the time of my diagnosis, I had never felt better, unaware of my developing cancer," Torres said. "I'd lost a lot of weight and had taken up my old love of swimming in a quest to be in the best condition I could by the time I turned 40, which was nine months away."
Because her cancer was caught early, she is able to say to her three young daughters this Mother's Day, "Mommy's fine; I'll be here to tuck you in until the day you leave for college."
Torres has become an evangelist of sorts about the importance of mammograms. She has delivered her message and personal story to women's groups in Chicago's northwest suburbs.
"When I wake up each morning, breast cancer is no longer my first thought, but I do reflect often and realize that I am forever changed," she said. "Women should make an annual mammogram a part of their life."
Torres is a patient of Northwest Community Hospital's Breast Center in Arlington Heights. The NCH Breast Center is one of the top providers of mammograms in Illinois, offering extra gentle mammograms with state-of-the-art digital imaging and MRI technology that can detect the earliest signs of cancer. Doctors recommend that women over 40 get a mammogram every year.
A signature service of the Breast Center - Results by Request™ - gives women a choice of how they receive their results. Schedule a one-hour appointment and get your report before you leave, or schedule a half-hour visit and have your report mailed to you the next day.
For more information, visit the Breast Center page on the Northwest Community Hospital website at http://www.nch.org/medical-services/breast-center.
###