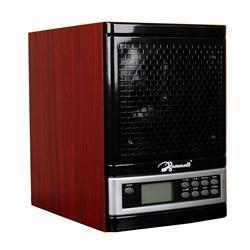 As pollution levels continue to increase, air purifiers are becoming more and more of a common necessity instead of a luxury.
Santa Ana, CA (PRWEB) February 23, 2010
Shopping for the right air purifier can seem like an endless pro-con comparison between features, prices, and efficiency. Mammoth Selection, an up-and-coming home appliance manufacturer, now offers a line of highly evolved air purifiers designed to make each breath feel impeccably clean. Mammoth has integrated all of the coveted technologies into a single, premium purifier which removes pollutants and sanitizes air.
There are currently 2 models in the Mammoth line – the 1000 and the Elite. The heavy-duty Mammoth Selection 1000 UV ionizer air purifier is the more powerful of the 2. This air cleaner is designed to improve air quality in minutes. Air goes through 6 stages of purification: a pre-filter, True HEPA filter, carbon filter, Tio2 filter, UV lamp, and ionizer.
The Mammoth 1000 air purifier can cover 3500 square feet and rids air of smoke, odor, allergens, bacteria, viruses, and fungi. The UV light activates oxygen which results in a fresher sensation and catalyzes the removal of pollutants. This same light is calibrated to target specific wavelengths, killing harmful microorganisms.
The Mammoth Air 1000 is available in black or wood grain finish, and has a digital display and remote control.
Mammoth's more compact model – the Elite UV air purifier - not only removes 95% of airborne particles, but also converts organic chemicals in the air into harmless water vapor and carbon dioxide. It functions as a germicidal air cleaner and a surface sanitizer. The Mammoth Elite has been proven though laboratory testing to remove allergens, odors, bacteria, and viruses, including the ubiquitous H1N1 Virus.
The Mammoth Air Elite's sleek minimalist design and brushed aluminum alloy casing make for a sleek aesthetic. This purifier is available in silver or gold and features self-cleaning elements for easy maintenance. It uses germicidal UVC light and photocatalytic oxidation technology to remove airborne pollutants.
Both Mammoth air purifiers boast low energy use. The high setting for the Mammoth Air 1000 only uses 50 W of energy. Additionally, with these purifiers you can program fan speed, timers, and noise level. The product adjusts to your air quality needs.
Mammoth air purifiers are available through authorized dealers such as Air and Water.
"We're excited to offer Mammoth Selection's line of UV air purifiers," said Jeanie Wong-Vierling, marketing director for Air & Water, Inc. "As pollution levels continue to increase, air purifiers are becoming more and more of a common necessity instead of a luxury."
Air & Water, Inc. is an e-commerce site located in Southern California. Established in 2002, the company has devoted itself to helping consumers meet their heating and cooling needs. It is one of the Internet's largest independent appliance retailers and has helped thousands of customers across the country.
###