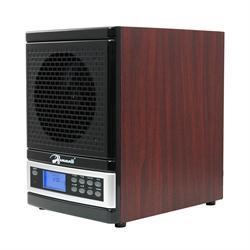 This product combines 6 advanced filtration technologies to effectively remove a large variety of indoor air pollutants.
Santa Ana, CA (PRWEB) March 9, 2011
The Mammoth Air 1000X UV air purifier is the newest addition to its air purifier suite, joining the Mammoth Air 1000 and Elite models. Mammoth air purifiers have a reputation for delivering outstanding air filtration, leaving up to 3500 square feet free of dust and allergens. The new Mammoth Air 1000X offers 6 stages of unbeatable purification and an optional seventh stage. Each stage of air purification on the Mammoth 1000X functions seamlessly to obliterate all traces of airborne contaminants from the air:
1. Pre-filter: Removes the largest particles from the air, enhancing the performance of the other filters
2. HEPA filter: High efficiency particulate air purifier traps 99% of all particles, making it the most effective filter available
3. Photocatalytic Oxidation filter: Coated with titanium dioxide to react with UV light, it produces highly reactive ions and electrons; the reactive ions adhere to organic compounds and destroy them via oxidation
4. Activated carbon filter: the most adsorbent material for capturing chemicals and gases
5. Germicidal UV lamp: Reacts with the oxidation filter to effectively destroy microorganisms through UV sterilization, as recommended by the U.S. Center for Disease Control
6. Ionizer: Circulates negatively charged ions to neutralize floating particles, rendering them inert
7. Ozone Plate: Optional ceramic plate releases safe levels of ozone into the air to eliminate odors and dust
Each stage of filtration is designed to complement each other. Mammoth's aim was to create a single well-designed air purifier that delivers a clean breathing environment. The air purification methods all work together to filter out airborne pollutants and destroy microorganisms, preventing organic pollutants from reproducing. Use the Mammoth Air 1000X to breathe air free of bacteria, mold, fungi, and dust. The Mammoth 1000X helps allergy sufferers, removing common allergens such as pet dander and smoke from circulating. This air purifier will clear both organic odors and chemical fumes to keep unpleasant scents from contaminating the home environment.
Mammoth Air has incorporated some innovations to make this machine especially durable and low-maintenance. Each of the filters is permanent, meaning they can be cleaned and reused many times. This eliminates the hassle and expense of buying replacement filters multiple times per year. Furthermore, the pre-filter and UV lamp have been proven to enhance the longevity and performance of the other filters. This collaborative system was designed with the goal of premium indoor air quality in mind.
The Mammoth Air 1000X features functional push-button controls and a backlit LED display for simple operation. Use the lightweight remote control to activate the anion or sterilizer features. The Mammoth 1000X UV air purifier offers adjustable purification and fan levels, plus a fully programmable clock. It operates at a whisper-quiet volume, making it appropriate for all indoor locations. The compact cubic design is evokes a retro amplifier, available in either a wood grain or black finish.
"We're excited to add the Mammoth 1000X to our current air purifier line," said Jeanie Wong-Vierling, marketing director for Air & Water, Inc. "This product combines 6 advanced filtration technologies to effectively remove a large variety of indoor air pollutants."
Mammoth air purifiers are only available through authorized dealers like Air-n-Water.com. Each Mammoth air purifier includes a manufacturer's warranty with purchase. Try the Mammoth Air 1000X for an unparalleled, high-capacity air quality solution.
Air & Water, Inc. is located in Orange County, California and was established in 2002. As one of the Internet's largest independent appliance retailers, the company has helped thousands of customers across the country find home environment solutions for both residential and commercial applications. Air & Water's standard for quality has always remained the same: efficient, dependable, and worry-free comfort.
# # #