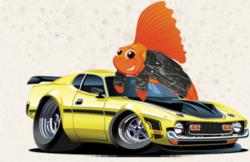 I think that when it comes to gift-giving, often times consumers get caught up in wanting to treat their friends and family to great gifts.
New York, NY (PRWEB) October 19, 2012
RoadFish.com men's lifestyle and finance magazine today issued their statement regarding the recent urging of holiday shoppers to carefully monitor spending with the use of a budget and cash to avoid an overly costly holiday season. RoadFish.com commends Fox Business for its recently published article that encourages consumers to carefully monitor their holiday spending and avoiding contributing to credit card debt in the process.
Donna Fuscaldo of Fox Business reported that many consumers each holiday season overspend on expenses like gifts, attire, and decorations. Senior Director of Financial Education at Visa, Jason Alderman, is quoted in this article as saying, "The holidays is a very expensive time and there's a tendency for people to put it on a credit card and carry the balance over into subsequent months. Buying that fruit cake and still paying interest on it for six months, is that really worth it?"
RoadFish.com admits that it is very tempting to put holiday expenses on a credit card but that it's just not worth the debt later in the year. RoadFish.com's Senior staff writer is quoted as saying, "I think that when it comes to gift-giving, often times consumers get caught up in wanting to treat their friends and family to great gifts. It's a nice sentiment, but it can come at the expense of credit card overload. If people don't have the money now to pay for gifts and other holiday expenses such as travel, it's common to reach for the old credit card. But who wants to deal with a huge credit card bill first thing in the New Year? Not to mention a hit to the credit report if any of those bills become past due, or the cards become maxed out."
The above-mentioned article recommends that shoppers create a holiday budget as a guiding force to keep them on track with spending. Visa's Jason Alderman reportedly advises that families spend no more than 1.5% of their total income on holiday expenses. Alderman is quoted as saying, "After you come up with a real budget, you then have to figure out where the money will come from. Can you start saving now? Do you have the ability to work extra hours? What can you cut back expense wise?"
RoadFish.com's favorite personal finance tool is a budget. RoadFish.com's Senior staff writer is quoted as saying, "I believe that personal budgets are one of the most helpful tools in one's financial spectrum. A budget will tell a consumer how much has been spent, where, how much is left, and can pinpoint the exact areas that can be trimmed down in terms of cost. Budgets have a way of shining a spotlight on trouble areas with money, and I think the holidays can easily fall into a troublesome time if people are spending more than they're earning. I think Fox Business is spot on in advising consumers to create budgets early to control spending, and make them aware of where their money is going."
Fox Business also recommends using cash to pay for holiday items since studies have shown that consumers are likely to spend more money when using a credit card as opposed to paying with cash. Fuscaldo's article suggests shopping early to take advantage of bargains, and not having to pay last-minute shipping and other costs associated with eleventh-hour gift purchases.
About RoadFish.com
RoadFish.com lifestyle and finance magazine is an online men's magazine that features articles about travel, women, online dating services, and men's luxury items. RoadFish.com is targeted towards male readers in their 30's and 40's who already achieved lofty goals in life and are passionate about striving towards a new personal or professional goal for themselves. RoadFish.com lifestyle and finance magazine features stories on fine clothing and designer watches, trendy vacations, hot chicks, and financial articles about personal finance and credit management. RoadFish.com is owned and operated by Purpose Inc.