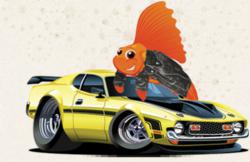 New York, NY (PRWEB) September 25, 2012
As the economy struggles, many consumers are looking for ways to save money in any way possible. For a lot of consumers, budgeting and carefully looking at their finances may be the answer to saving a considerable amount in their financial plan every month. RoadFish.com, an online lifestyle magazine that offers consumers lifestyle tips on issues such as dating and finance, has published an article on how to manage personal finances that helps consumers find everyday ways to balance their budget and curb overspending.
RoadFish has been publishing lifestyle articles for consumers since 2011. The site has become a central location for easy-to-read reviews on news reports published on the web that discuss subjects such as personal investing, dating, and reliable ways to get a free credit report. "We've tried to make the site a comprehensive online destination for all things related to personal finance," says the site's Editor. One of the site's recently published articles, Tips to Curb Overspending, is offering an easy way to take a look at the places where most consumers overspend and offer helpful tips on how to adjust financial markers to keep overspending at bay.
RoadFish.com notes that overspending often occurs in the places it would seem to be easy to not overspend. Using grocery shopping as an example, the articles offers advice to take an active approach when going to the store to get food. "I actually bring lists with me when I go shopping now, as a way to stick to what I need and not buy impulse purchases. That's just one tip of many to curb overspending," says RoadFish. The article offers more resources for consumers to build a better understanding of overspending and gain financial literacy on the subject. "As the king of your castle, and the keeper of your personal finances, make sure you reel in your spending if it's getting a bit superfluous," stated RoadFish's Senior Staff Writer.
To read the full RoadFish.com article on how to curb overspending or to read more articles on RoadFish that offer how-to tips and resources on personal finances, go to http://www.roadfish.com.
About RoadFish.com
RoadFish.com lifestyle and finance magazine is an online men's magazine that commonly features articles on travel, lifestyle, and dating advice for men. RoadFish.com readers tend to be guys in their 30's and 40's, most of who have already set and achieved high personal goals for themselves, and are heading steadily towards a new goal. RoadFish.com men's lifestyle and finance magazine features stories on men's luxury items, vacation ideas, beautiful women, and information on managing budget and personal finances.