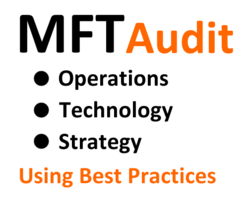 Transmissions departments are constantly wondering "am I doing it right?" Our MFTAudit service answers that question by examining all facets of service delivery under the lens of managed file transfer best practices.
Watertown, WI (PRWEB) June 29, 2011
Managed file transfer departments who want to apply industry best practices finally have a solution in File Transfer Consulting's new MFTAudit service.
"MFT best practices are not just about technology selection, they are also about service delivery," said File Transfer Consulting President Jonathan Lampe. "Can you, as a department, provide reliable access to my files, sustain reliable transmissions with our partners and give me enough visibility into your operations to justify your chargebacks?"
Each MFTAudit begins with a single-page questionnaire to surface major issues.
"The questionnaire starts with softballs like, 'number of data exchange partners,' then moves on to operational concerns like 'transmission policy' and business-related concerns such as 'cost driver metrics,'" said Lampe. "The overall intent is to get transmissions departments thinking about how the rest of the business measures their worth."
The second phase of an MFTAudit is an onsite visit.
"To understand day-to-day operations we need to see what goes on in the trenches," said Lampe. "Most MFTAudits pay for themselves several times over through efficiencies uncovered during this phase."
The final deliverable of an MFTAudit is a formal report, delivered onsite.
"Almost all MFTAudits are performed for one of two groups: transmission department managers or IT directors considering the value of an existing or future transmissions department," said Lampe. "We understand that there are sensitive implications of our findings and recommendations so we are careful to present them in person to the right audience."
Recommendations from an MFTAudit may suggest consolidating overlapping systems, closer integration with enterprise technology, upgrading to more capable core technology, getting additional training or improving visibility to end users. In most cases, File Transfer Consulting's unique array of technology, integration and service offerings can address the top issues.
"We are licensed to resell technology from a handful of excellent technology vendors (Ipswitch, Linoma Software and RhinoSoft.com), but we strive to remain vendor-neutral in our approach," said Lampe. "We understand that no single technology can completely cover all the needs of your transmissions department, so our approach is to fill the gaps."
Though each MFTAudit is a paid service, File Transfer Consulting also devotes time to public education of managed file transfer best practices.
"We encourage anyone to download and use the sixteen questions we ask participants to answer before their MFTAudit," said Lampe. "We also devote significant time to industry thought leadership, such as our recent 'IPv6 Readiness' whitepaper and our public position on the future of managed file transfer after Gartner retired the Magic Quadrant for our space."
Before founding File Transfer Consulting, Lampe worked closely with more than one hundred transmissions departments as Product Manager for two thriving MFT vendors. During his career he was responsible for creating the MOVEit MFT suite, two MFT SaaS services and Ipswitch File Transfer's professional services offerings. Today, almost 1,500 enterprises around the world use managed file transfer solutions developed by Lampe, a legacy he carries forward into new solutions from File Transfer Consulting.
###