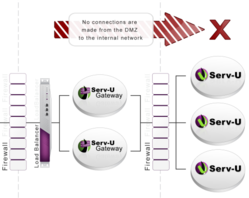 Serv-U provides the most cost-effective way to prevent data at rest in your DMZ.
Helenville, WI (PRWEB) May 10, 2012
Today RhinoSoft announced the release of an affordable reverse proxy server that fulfills PCI DSS and similarly stringent security requirements.
The proxy server is called Serv-U Gateway and has been bundled with RhinoSoft's popular Serv-U Gold edition in a new Serv-U Platinum edition. The total cost of Serv-U Platinum with one year of support is just under $5,000, and positions Serv-U to be the best managed file transfer solution for budget-conscious IT departments seeking both a server and a gateway.
"The reverse proxy architecture has been used by the managed file transfer industry to fulfill PCI DSS, HIPAA HITECH, SOX, FISMA, DISA, and other tough security and privacy requirements for years," said Jonathan Lampe, RhinoSoft VP of Product Management. "What we did differently is build an affordable and easy-to-deploy solution that lets IT deploy a two-over-two clustered solution for under ten thousand dollars."
All of Serv-U's existing file transfer interfaces are available through Serv-U Gateway, including its mobile transfer, web transfer, FTP, FTPS, SFTP (SSH), and web administration interfaces. Both IPv6 and IPv4 are also supported on all interfaces, and Serv-U's FIPS-validated cryptography has been extended to the proxy server as well.
"This design ensures that no data at rest is ever in the DMZ, encrypted or otherwise," said Mark Peterson, RhinoSoft President and Chief Architect. "Furthermore, Serv-U Gateway never needs to open any connection from the DMZ into the internal network because all communication takes place over a secure control channel initiated by Serv-U into the DMZ."
Serv-U Gateway is available on Windows Server, Red Hat Enterprise Linux, other Windows operating systems, and Linux distributions. Virtualization support includes EMC VMware, Oracle VirtualBox, and Amazon EC2 cloud services. Additional information about deployment options is now available in the new Serv-U Distributed Architecture Guide.
RhinoSoft (RhinoSoft.com) is the global leader in affordable file transfer, with more than 90,000 business customers, including nine of the Fortune 10, in 90 different countries. Its award-winning and U.S. Department of Defense-certified Serv-U FTP Server and FTP Voyager client products support FTP, SFTP, FTPS and web-based HTTP/S secure file transfers over FIPS 140-2 validated channels while continuing to incorporate emerging technologies such as mobile computing, IPv6, native 64-bit computing and UTF-8/Unicode internationalization.