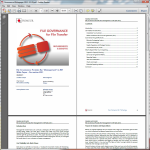 Too many teams behave as if their customers are individual end users rather than the business units that fund their operations.
Watertown, WI (PRWEB) January 03, 2012
File Transfer Consulting and Primeur have collaborated on a new white paper that redefines managed file transfer from the perspective of business units served by shared IT services.
"Too many teams behave as if their customers were individual end users rather than the business units that fund their operations," said coauthor Jonathan Lampe, Chief Analyst for File Transfer Consulting. "This paper cuts to the heart of the most pressing issue in managed file transfer today: providing better service while controlling costs."
"The first step in controlling costs is identifying them," added coauthor Peter Sedgwick, who runs International Marketing and Communication for Primeur. "Our approach traces missed SLAs, slow transfers, retransmissions and other events back to specific business units so shared service teams can direct their resources appropriately."
The first section of the paper covers ways to improve visibility into data flows after understanding the needs of business units and specifics behind existing SLAs.
The second section describes several ways to save money through efficiencies possible through improved visibility, including eliminating overlapping systems, improving profit margins, simplifying operations and avoiding security audits.
The final section provides a guide to "what to expect when you're inspecting", complete with samples of reports that improve visibility and a brief discussion of extensibility.
"If 'budget' is your top concern when you wake up in the morning this is the paper for you," said Lampe. "It tells how to leverage a small monitoring investment into promotion-worthy savings visible across multiple departments."
"Most corporations already understand that managed file transfer is about more than FTP and a few log files," said Sedgwick. "It's really about a team of people working to meet specific expectations on a budget. That's our perspective and we hope it comes through in the paper."
###