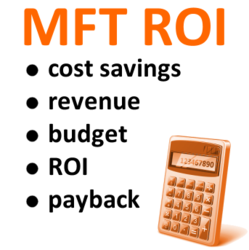 The MFT ROI calculator helps project managers and transmission departments speak the language of the business.
Watertown, WI (PRWEB) July 05, 2011
A managed file transfer ROI calculator is now available to help transmission departments, project managers and decision makers build or evaluate managed file transfer business cases.
"This is a tool the managed file transfer industry has needed for years," said Jonathan Lampe, President of File Transfer Consulting and the original architect behind Ipswitch's MOVEit file transfer suite.
"I've designed managed file transfer solutions for companies like Exxon, Fiserv, Bank of America and multiple Blue Cross Blue Shields," said Lampe. "Every one of them needed to justify a project budget. I can only imagine how much faster those implementations would have happened if they could have used a utility like this to rough out their business cases."
The new calculator steps people through a mobile-friendly wizard that asks a dozen questions about expected cost savings, new revenues and overall project budget. The result is a pair of ROI and payback calculations that translate project benefits into the two most widely used decision-making metrics.
"In today's economy your project needs to demonstrate how to do more with less: that's a given," said Lampe. "But a project that also brings in new revenue will go to the top of the pile. That is the reason our calculator covers both cost and revenue."
The managed file transfer calculator makes no mention of specific products, brands or even industry conventions such as "no data in the DMZ." Instead, it focuses on process, personnel, purchases and platforms in its questions.
"The intent of this utility is to get transmissions departments and project managers to boil down the value of their proposal into a business case that commands the funding their project deserves," said Lampe. "Having the right brand of managed file transfer software is only a small part of running an efficient and effective transmissions operation."
File Transfer Consulting's release of a vendor-independent managed file transfer ROI calculator comes just one month after its release of a vendor-independent study on IPv6 readiness.
"The managed file transfer industry has been in need of fresh perspective for several years now," said Lampe. "As an organization, we devote significant time to thought leadership, including a position on the future of our industry after Gartner retired the Magic Quadrant for our space."
Before founding File Transfer Consulting, Lampe worked closely with more than one hundred transmissions departments as Product Manager for two thriving managed file transfer vendors, including one named as a "Leader" in the 2009 Gartner Magic Quadrant on Managed File Transfer. During his career he was responsible for creating the MOVEit managed file transfer suite, two managed file transfer SaaS services and Ipswitch File Transfer's professional services offerings. Today, almost 1,500 enterprises around the world use managed file transfer solutions developed by Lampe, a legacy he carries forward into new solutions from File Transfer Consulting.
###