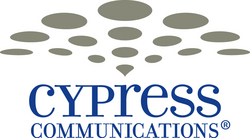 The hosted/managed delivery model has permeated every aspect of technology -- from software to servers -- and I am excited to share my perspective on how attendees can leverage 'the cloud' to implement unified communications
Atlanta (Vocus) October 29, 2009
Cypress Communications® today announced that its president and CEO, Stephen L. Schilling, has accepted an invitation to speak on the ''Managed/Hosted Services for Unified Communications'' panel during the VoiceCon San Francisco 2009 conference. Held November 2-5 at the Moscone North Convention Center, VoiceCon brings together the industry's leading vendors, analysts and consultants with top decision makers to focus on issues central to enterprise communications.
"The hosted/managed delivery model has permeated every aspect of technology -- from software to servers -- and I am excited to share my perspective on how attendees can leverage 'the cloud' to implement unified communications," Mr. Schilling said. "Having seen thousands of companies successfully implement and utilize virtualized communications, I am confident in the viability of the hosted model and the benefits that it can deliver."
Moderated by an Industry Principal with Frost & Sullivan, the hosted unified communications session will provide attendees with an overview of what technologies are available and detail key business drivers for selecting a solution. Attendees will come away from the session with a better understanding of what's available, the cost justifications and the competitive advantages their businesses can attain by implementing a managed or hosted unified communications solution.
"At VoiceCon, we aim to provide attendees with the tools and information they need to make the right communications choices for their companies," said Fred Knight, general manager at VoiceCon. "Cypress is widely recognized and respected in the hosted unified communications sector, and Mr. Schilling will be a valuable addition to the program."
Mr. Schilling has over 20 years' experience in communications, which has provided him with keen insight into the unique requirements and challenges companies face when implementing new technologies. As president and CEO at Cypress, he has transformed the company into one of the leading providers of hosted unified communications for small-to-medium enterprises (SMEs). Cypress' flagship solution, C4 IP®, has a user base that reaches tens of thousands of users across 38 states, and the company has successfully completed the largest hosted unified communications deployment on record.
Comprehensive unified communications solutions tout benefits that range from increased productivity to better collaboration -- and in the case of Cypress' C4 IP -- even substantial cost savings. With C4 IP's fully hosted delivery model, SMEs can implement the solution with no upfront capital expense and no need to hire and train additional staff to manage the solution -- saving them notable budget and IT resources. C4 IP includes an array of advanced communication features such as soft phones, Microsoft® Outlook integration, unified messaging, chat, call routing, presence, file sharing, and audio, video and web conferencing.
About VoiceCon®
Now in its 19th year, VoiceCon® is the leading conference and exhibition for enterprise IP Telephony, Converged Networks and Unified Communications in North America. VoiceCon® brings corporate communications decision makers together with the industry's vendors, analysts and consultants to focus on the issues central to enterprise networks and communications. As the momentum toward IP Telephony and convergence has grown, VoiceCon expanded to include two yearly shows in the United States: VoiceCon San Francisco, November 2-5, 2009 at the Moscone North Convention Center and VoiceCon Orlando, March 22-25, 2010 at the Gaylord Palms Hotel. VoiceCon's No Jitter, provides daily blogging and analysis of enterprise communications, and also serves the community with two weekly email newsletters -- VoiceCon eNews and VoiceCon UC eWeekly. For more information, visit http://www.voicecon.com/ .
About Cypress Communications®
For over 25 years, Cypress Communications has been helping small-to-medium enterprises (SMEs) connect, communicate, collaborate and continue® with a range of fully hosted and managed voice, data and Internet solutions. Beginning in 2006, Cypress revolutionized the communications industry with its hosted VoIP and hosted unified communications solution, C4 IP, making it easy for SMEs to take advantage of productivity-enhancing technology such as integrated audio and Web conferencing, multimedia collaboration tools, presence, chat, Microsoft® Outlook integration, and more. As a Deloitte Fast 50 and Fast 500 award recipient, Cypress is recognized as one of the fastest growing telecommunication companies in North America. In 2008, the company was also named one of Atlanta's Best Places to Work. Cypress' hosted unified communications solution has received numerous awards and accolades, with 18 awards for excellence and innovation to date. The company's Web address is http://www.cypresscom.net .
For more information, contact:
Heather Whitt Roberts
Cypress Communications
404-442-0034
hwhitt(at)cypresscom(dot)net
© 2006-2009 Cypress Communications, Inc. The Cypress Communications logo is a registered service mark of Cypress Communications, Inc. C4 IP and Connect. Communicate. Collaborate and Continue are registered trademarks of Cypress Communications. All other marks used herein are the property of their respective owners.
###