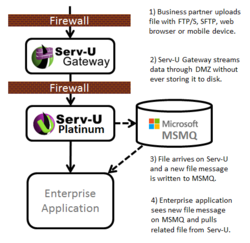 Serv-U's MSMQ support will let you tie secure file transfer into critical business applications.
Bellevue, Washington (PRWEB) August 28, 2012
Serv-U FTP Server will soon integrate with Microsoft Message Queuing (MSMQ), an enterprise-class technology for durable and distributed communications.
"Many people already use Serv-U's event-driven automation to send email or run programs when files arrive, sign ons fail, and other actions occur," said RhinoSoft VP Jonathan Lampe. "Starting in version 12.2, we will also let our enterprise customers write messages out to their Microsoft message queues when Serv-U events are triggered."
Microsoft Message Queuing provides guaranteed message delivery, efficient routing, and priority-based messaging. It is often used to support mission-critical financial services, business process automation, and complex deployments where a loosely coupled architecture allows individual systems to be upgraded independently.
"Now any enterprise application can subscribe to Serv-U file, security and administration events," continued Lampe. "This allows us to provide reliable and secure bulk data transfers to even more corporations."
MSMQ support will be available in Serv-U's Platinum edition, which already includes managed file transfer features such as an integrated gateway to prevent data storage in DMZs, and "white box" branding that hides references to RhinoSoft and Serv-U from end users.
RhinoSoft is the global leader in affordable file transfer, with more than 90,000 business customers, including nine of the Fortune 10, in 90 different countries. Its award-winning and U.S. Army certified Serv-U FTP server software for Windows and Linux and FTP Voyager FTP client software support FTP, SFTP, FTPS and web-based HTTP/S transfers, while embracing emerging technologies such as mobile computing, IPv6, native 64-bit computing and UTF-8/Unicode internationalization.