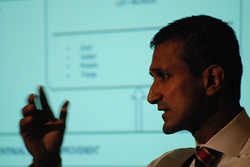 The system has to learn, as opposed to being taught
New York, NY (PRWEB) October 28, 2009
By 2014, 90 percent of all North American companies will be using Remote Infrastructure Management services.
That's the prediction of Eric Goodness, Vice President at Gartner Inc., the world's leading information technology research and advisory company.
Goodness made this assessment at an event hosted by leading managed services provider, IPsoft Incorporated. The day-long event in September officially launched IPsoft's new management platform, IPcenter v3, and explored the future of outsourcing. More than 100 CIOs, senior technologists and executives attended the event, which also featured talks by IPsoft CEO Chetan Dube and Cisco Remote Operations Services General Manager Steve Yager.
(A webinar presenting short summaries of the presentations is now available, at IPsoft's web site.)
Gartner video: The Future of Remote Infrastructure Management
As it stands, about 60 percent of companies use managed services. Despite the growing popularity of outsourcing, Goodness pointed out that many Managed Service Prociers (MSPs) are concentrating on day-to-day performance but neglecting to invest in research and development. He called for the managed services industry "to be more innovation-focused."
IPsoft is heeding that call. Automation is the hallmark of IPsoft's service model: More than half of all issues are resolved through the use of autonomics.
With IPcenter v3, IPsoft has reached further heights: IPsoft's technologists have managed to "clone engineers' brains," in a manner of speaking.
To visualize how this works, imagine a robot looking over an engineer's shoulder and "learning" as the engineer solves problems. The robotic system "observes" the remediation sequences, and much like a brain, it "learns" adaptively from experience. "The system has to learn, as opposed to being taught," Dube said.
Dube envisions a future centered around this groundbreaking technology. In his estimation, the infrastructure of tomorrow will be managed mostly by expert systems - not people.
Yager, of Cisco, also looked toward the future, and spoke about the challenges of managing converging technologies such as data, voice, core applications and high definition video. In his view, the key question MSPs must answer is: "Do end-users have what they need to do their job?"
In addition to discussing the future of outsourcing, Goodness also highlighted the dramatic savings businesses realize when they outsource IT:

Large businesses typically see a 20-35 percent drop in operating costs
Small and medium-sized businesses typically see a 30-45 percent drop in operating costs
80 percent of customers experience improved performance.
About IPsoft
IPsoft is a global managed services company providing comprehensive support services to corporations worldwide. The company is headquartered in New York City, with offices in San
Jose, Chicago, London, Frankfurt, Stockholm, Amsterdam and Bangalore.
For more information, please contact Barry Campbell, Director of Communications, at 212-708-5505
# # #