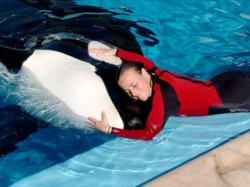 I've seen the power of positive relationships by focusing on the good qualities in people and ignoring the bad.
New York, NY (PRWEB) January 06, 2013
Management training by Carlton's Training Solutions employs the training videos Would I follow Me and Whale Done for corporate education. What's interesting about these programs is they take on management from a human perspective. Whale Done and Would I Follow Me ask questions and are constructive sources in the library at Carlton's Training Solutions.
The Whale Done video was developed by Ken Blanchard to assist managers with their people skills in corporate training. The program demonstrates how killer whale training is very similar in that the positive relationships you build develops more loyalty and thus managers get more from employees. The mistake that is often made is to criticize the poor efforts of employees to reduce their occurrence. All evidence shows to the contrary.
Ken Blanchard realized that the power of positive relationships has short term and long term effects on personnel. The short-term ramifications of critical analysis is the message is avoided and unheard because it is simply not desirable. The long-term effects bring wounds that never heal. Blanchard states, "I've seen the power of positive relationships by focusing on the good qualities in people and ignoring the bad."
Would I Follow Me could be described as one of many management training videos companies use consistently. Or it could be looked upon as a manager's self analysis and psychosis. But the truth of the matter is the question of Would I Follow Me is an important one. Managers need to self assess and ask aloud if the qualities they are currently displaying stir others to follow.
Management styles change but the core principles of human behavior do not. Carlton's Training Solutions is an employee development firm, educating Fortune 500 companies and healthcare organizations on their management skills and customer service. They have training videos on subjects like management, team activities, management courses, how to open a meeting, performance appraisal, performance management training, safety training, sales training, sexual harassment training, substance abuse, team building, customer service videos, telephone customer service training, and time management.
Whale Done and Would I Follow Me have helped Carlton's Training Solutions clients in leadership training and management courses. They have built a following using the great minds in business in their training programs such as Morris Massey, Joel Barker, Catherine Crier, Ben Zander, Ken Blanchard, Dewitt Jones, Bob Farrell, Tom Peters, Stephen Covey, Lou Holtz and John Cleese. To find other topics on corporate training or learn about Carlton's Training Solutions visit their site http://carltonstraining.com. Carlton's Training Solutions exercises the philosophies of Whale Done and Would I Follow Me in their management training and development to make a difference that is long lasting.