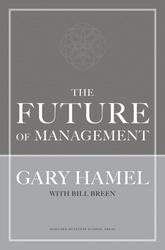 Whole Foods, Whole People, Whole Planet
BOSTON (PRWEB) October 16, 2007
In the new book The Future of Management, published this month by Harvard Business School Press, world renowned strategist and influential business thinker Gary Hamel calls for the practice of management to be reinvented in order to meet the needs of the current world, where adaptability and creativity drive business success. Rather than focusing on operational excellence or new business models, Hamel argues that management innovation - new ways of mobilizing talent, allocating resources, and building strategies - is the key to creating long-term competitive advantage.
Hamel states that while there have been many great product and process innovations throughout the twentieth century, only a handful of companies - including General Electric, Proctor & Gamble, and Toyota - have mastered management innovation to cross new performance thresholds and build long-term advantage. According to the author, most companies lack a disciplined approach for radical management innovation and are shackled to a twentieth century way of thinking of too much management, too much hierarchy, and too much exhortation.
Management Innovation Defined
Hamel defines management innovation as anything that substantially alters the way in which the work of management is carried out. Put simply, management innovation changes the way managers do what they do - and does so in a way that enhances performance. Management innovation also encompasses value-creating changes to organizational structures and roles. In The Future of Management, Hamel dives into the principles of management innovation and highlights a set of questions for companies to help them maximize the chance for precedent-breaking change:
-- How can you enroll every individual within your company in the work of innovation, and how do you give them the tools to succeed?
-- How can you ensure that top management's hallowed beliefs do not straightjacket innovation, and that heretical ideas are given the chance to prove their worth?
-- How can you create the time and space for grassroots innovation in an organization that is solely focused on delivering today's results?
To illustrate these challenges in action, Hamel presents three case studies of organizations that have broken free of traditional management practices to become leaders in their industry by embarking on distinctive management innovation practices.
Creating a Community of Purpose: Whole Foods
Whole Foods' business model is built around a simple but powerful premise: people will pay a premium for food that is good for them, good-tasting, and good for the environment. At every turn, this inventive company has taken the road less traveled - yet it is America's most profitable food retailer when measured by profit per square foot. Whole Foods has addressed today's management challenges by giving employees a large dose of discretion and providing them with the information they need to make wise decisions; by creating a high degree of financial transparency; and by making the pursuit "Whole Foods, Whole People, Whole Planet" as real and tangible to employees as the pursuit of profits.
Building an innovation democracy: W.L. Gore
When Wilbert "Bill" L. Gore started his company in 1958, he dreamed of building an organization devoted to innovation, and a company where imagination and initiative would flourish and where chronically curious engineers would be free to invent, invest, and succeed. Over the next several decades, Gore's vision took shape in the form of W.L. Gore & Associates, a company built around a set of management principles diametrically opposed to much of modern business thinking. Gore has implemented management innovation processes focused around three distinctive management practices: a lattice structure rather than hierarchy where the belief that innovation can come from anyone; a peer-based process for allocation resources; and 10 percent of staff time for projects that are "off budget" or "out of scope."
Aiming for an evolutionary advantage: Google
What makes Google unique is less its Web-centric business model than its brink-of-chaos management model. Key components of Google's management practices include a wafer-thin hierarchy; a dense network of lateral communication; a policy of giving outsized reward to people who come up with outsized ideas; a team-focused approach to product development; and a corporate credo that challenges every employee to put the user first. Google has opened up the strategy process, made it easier for employees to experiment with new ideas, and encouraged people to work on "out of scope" projects.
Hamel's suggestions for readers are clear: create organizations that are as adaptable and innovative as possible, and that tap the human talent within the organization to help invent the future of management. With this distinctive and far-reaching new vision of innovation for the 21st century, The Future of Management will profoundly shift the current view of the organization - and offers an updated vision for what it can be.
ABOUT GARY HAMEL
Gary Hamel is Visiting Professor of Strategic and International Management at the London Business School; cofounder of Strategos, an international consulting company; and director of the Management Innovation Lab. He is the author of Leading the Revolution and coauthor of Competing for the Future, two landmark books that have appeared on every management best seller list. He has also written numerous articles for Harvard Business Review, the Wall Street Journal, the Financial Times, and many other business publications. Hamel lives in Northern California. For more information on management innovation in action and The Future of Management, visit Gary Hamel's Management 2.0 Blog on Harvard Business Online.