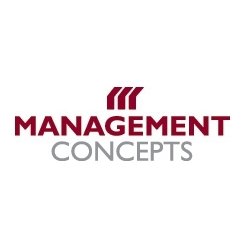 "Our clients want books, periodicals, electronic media that support their work," Thomas F. Dungan, Management Concepts CEO said. "The Press demonstrates how we leverage our intellectual resources to meet clients' learning styles."
Vienna, VA (Vocus/PRWEB) April 07, 2011
Thomas F. Dungan, Management Concepts CEO, a training and performance improvement company, announced the launch of Management Concepts Press. Appointing Mary Cowell publisher, Dungan said, "Cowell will position Management Concepts Press as a platform for thought leadership in core Federal areas. "
"Our clients want books, periodicals, electronic media that support their work," Dungan said. "The Press demonstrates how we leverage our intellectual resources to meet clients' learning styles."
"As a full publishing house, we will continue to publish highly-regarded, on-target authors who add value to the work of our readers," said Cowell. "With over 100 titles and more than a dozen periodicals available in print and electronic formats, we are well-known for high-quality, accessible resources." Cowell received The Project Management Institute's Book of the Year Award for Managing Complex Projects: A New Model by Kathleen Hass.
Her list of successful print and electronic newsletters, online resources and print and electronic books includes Federal Contracting Made Easy, by Scott A. Stanberry, now in its third edition, and Neal Whitten's No Nonsense Advice for Successful Projects. Headquartered in Vienna, VA, the Press publishes in Federal Acquisition and Contracting, Grants, Federal Financial Management, Leadership and Management, and Program and Project Management. Under Cowell's leadership, Management Concepts publishing has grown exponentially.
On June 15 Management Concepts Press will release The Virtual Project Management Office: Best Practices, Proven Methods by Robert Gordon and Wanda Curlee.
For more than 38 years, Management Concepts has successfully unleashed the full potential and productivity of over 69,000 professionals yearly through our innovative and highly-effective approach to individual and organizational achievement. Every major agency in the federal government, dozens of state and local government offices, and hundreds of corporations have benefited from the company's high impact training courses, custom learning and development programs, professional consulting services, and award-winning publications. The Company's renowned training programs are delivered "live" in-classroom and online (public and private sessions) to over 312 cities around the world. The company was named Business of the Year in 2010 by ISA, The Association of Learning Providers. For more information, visit us at http://www.managementconcepts.com/mcpress.
Contact: Barbara Kres Beach, 703-790, 9595, bbeach(at)managementconcepts(dot)com
facebook.com/managementconcepts
linkedin.com/groups?gid=2643355
govloop.com/group/managementconceptsalumni
###