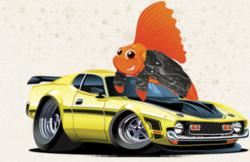 Chicago, IL (PRWEB) September 04, 2012
RoadFish.com men's lifestyle and finance magazine today issued their support regarding the value of educating college students about managing personal finances, and their take on this may help students and parents alike by encouraging open communication regarding credit, budgeting, spending, earning and saving during the crucial college years when many people first begin accruing a credit history.
Gail MarksJarvis of the Chicago Tribune reported that many adults who have difficulty managing money or currently are in debt started off on the wrong foot with finances in college. MarksJarvis states that there are laws that presently prohibit banks from stting up on campus and handing out freebies to students who fill out a credit card application, but reports that there are still many ways that students can acquire a credit card, including through Facebook. The article points out that most college students do not begin the school year with an income, and are typically fairly naïve when it comes to interest rates, delinquent accounts, and the affect that debt and missed payments can have on their credit score.
RoadFish.com expresses some strong feelings on parents and students having discussions about money before students have a chance to harm their credit score or get into financial trouble with a credit card. RoadFish.com's Senior staff writer is quoted as saying, "Some things are better learned from experience, but let me tell you, if I could have learned about avoiding debt and a lousy credit score from my parents, it would have been much better than having to learn it on my own from living it. Money and finances was always a taboo topic in my home growing up, so I entered college totally naïve and unaware about basics like interest rates and what the heck a credit history is. Needless to say, it took a long time to undo the damage I did to my finances as a result of my lack of knowledge. It's a great idea for parents to begin teaching kids about finances at a young age, but it's especially important to have a talk with college-aged kids before they leave home and live on their own for the first time, with all sorts of new bills, expenses, and temptations."
The above-mentioned article states that according to a survey by Sallie Mae, roughly 35% of college students own credit cards and that nearly 75% of those same students possess cards in their own name, versus the quarter who have credit cards in someone else's name. The survey revealed that of the students who have credit cards, only a third pay off their cards every month while 42% carry a balance of $500, and another 3% have a balance of a whopping $4,000. MarksJarvis writes about the option of students getting secured credit cards, which are essentially credit cards that come with a security deposit. A secured card requires the consumer to give a down payment as collateral, or security, and then that consumer is only allowed to charge to the card up to the amount they put down. Then instead of using that security deposit to pay off the balance, the consumer makes monthly payments just like with a regular credit card. The security deposit is returned when the consumer closes the account. The system of a secured card both helps establish credit history and can be a good lesson in money management.
RoadFish.com likes the idea of a secured card, but believes that debit cards are one of the best tools for students to learn on. RoadFish.com's Senior staff writer is quoted as saying, "A debit card is essentially fool-proof in that it doesn't allow somebody to spend more than what they have. If you have the money, your card will work. If you are out of money, your card won't. It's that simple. I like this method of payment because it teaches people to really manage money well, not just that if you don't have the cash now, you can charge it. That's not what a credit card should be used for. I had a debit card in college, and it helped me really learn the value of saving, prioritizing, and spending wisely. If I spent too much on the weekdays, I couldn't go out on the weekends. I think students would be well off with this type of card. The only problem is that it doesn't help build a credit history, which is also important for the future."
MarksJarvis reports in the above-mentioned article that debit cards don't offer protection if stolen, like some credit cards do, but points out that with regards to students not being able to build a credit history with a debit card, they can always make student-loan payments on time in order to establish some credit.
About RoadFish.com
RoadFish.com men's lifestyle and finance magazine is a popular and trendy online men's magazine whose readers are most often men in their 30's and 40's. RoadFish.com topics include travel, lifestyle, men's fashion, finance, and dating advice. The vast majority of RoadFish.com readers are men who have already achieved success in their personal and/or professional lives, and have their eyes set on their next big goal. RoadFish.com men's lifestyle and finance magazine commonly features articles about luxury items, vacation ideas, hot chicks, and financial advice such as how to gain wealth. RoadFish.com is owned and operated by Purpose Inc.