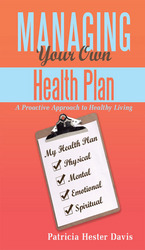 Virginia Beach, VA (Vocus) October 24, 2010
According to data released in September 2010 by the U.S. Census Bureau, the number of uninsured Americans (an estimated 50.7 million people) is at an all-time high. With health care costs skyrocketing, a trip to the doctor can be a major expense for those with coverage as well. Now, more than ever, it's time to start taking preventative measures to ensure good health. Here to guide us towards a healthier tomorrow is Patricia Hester Davis with her new book, Managing Your Own Health Plan: A Proactive Approach to Healthy Living (published by AuthorHouse).
An easy-to-read combination of thorough research supported by personal anecdotes, Managing Your Own Health Plan sets itself apart from other healthy living guides with a holistic approach that focuses on all four aspects of healing – physical, mental, emotional and spiritual. Numerous tips help the reader establish goals while encouraging independent research and stressing the benefits of knowing how to choose between alternative and conventional therapies.
Good health is the result of many various components working together. Davis' proactive approach to healthy living incorporates acupuncture, aromatherapy, yoga, colonics and more. She also shows readers how to:

Balance masculine and feminine energies
Purify and cleanse the body
Address emotional issues and spiritual practices
Maintain a healthy weight with proper diet and exercise
Practice healthy habits for sleep
Understanding the direct link between a positive attitude and good health is vital to maintaining a balanced lifestyle. Discover how prayer, meditation and visualization combine with other techniques to integrate healing at all levels, and don't wait another day to start Managing Your Own Health Plan.
About the Author
Patricia Hester Davis is a certified educator with more than 30 years of diverse experience. She has a bachelor's degree in general education and a master's degree in special education. In addition to working in public and institutional schools, she has conducted private tutoring, diagnostic testing and instructed in psychiatric hospitals. Davis is also the author of Beatitudes of Learning: Eight Principles for Optimizing All Learning Situations and Finally Being Heard: A Sister Gives Voice to Her Brother. For more information, visit LifetimeDiscoveries.com.
AuthorHouse is a premier book publisher for emerging, self-published authors. For more information, please visit authorhouse.com.
###