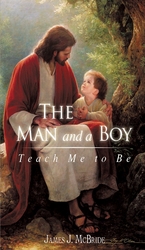 Tucson, AZ (Vocus) November 1, 2010
It doesn't happen often. But every now and then we are introduced to a work that irons out our most wrinkled logic. Frenzied minds are put to ease and hope is restored. The Man and a Boy: Teach Me to Be (published by iUniverse) is one such work. In this inspirational read, calling to mind such works as Tuesdays with Morrie by Mitch Albom, author James J. McBride pens a charming story of what it means to live a purposeful life.
In The Man and a Boy, a Man finds a despondent and brutally abused eight-year-old boy in a garden on the verge of suicide. The Man befriends the boy and convinces him to live out the day.
The Man unexpectedly appears in a tree-shaded garden, where light flickers, filtering through the leaves. He is standing slightly behind the largest tree, barely visible in the shade. He is intently watching a wretched young boy sobbing away.
Bobbing on the soft mulchy ground in a rigid sitting fetal position, the boy is pain. His arms wrap around his bent-up knees, with his head in his hands between his knees. The tears are mixed with blood and drenching the mulch.
After their initial meeting, the Man and the boy begin a series of dialogues. He brings the boy to the realization that he is a child of God, blessed and highly favored. As the boy acquires wisdom, he learns to listen with his heart, mind and soul.
An encouraging book that will appeal to fans of Chicken Soup for the Soul and daily devotionals, The Man and a Boy is the quintessential feel-good read.
James J. McBride, a retired teacher, holds a post-doctorate degree in psychology, a doctorate in human behavior and leadership, and a master's in educational physics. A former California teacher of the year in economics, he has also received a WHO (We Honor Ours) Award from the San Diego County Service Center Council.
iUniverse is a premier book publisher for emerging, self-published authors. For more information, please visit http://www.iuniverse.com.
###