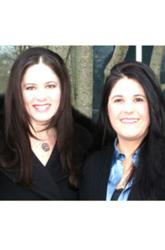 When relationships are created, business naturally follows. - Laura Wells, president of The Heart Link Network
Manasquan, NJ (PRWEB) March 13, 2012
The Heart Link Women's Network®, winner of the Women Entrepreneur Business Award of Excellence in 2010 and 2011, opens a new networking location in Manasquan. The women's networking chapter is led by Christine Kremp, a Compass Life Coach and Kimberly Beyer Farren, a Partner at Conover Beyer Associates, Inc. Christine and Kim love being able to create an environment where women small business professionals can connect, help one another grow, expand their circle of influence, and market their business in a fun and effective way.
"The Heart Link Network® is the perfect way for Manasquan area direct sellers, women entrepreneurs, non-profit leaders, and all other female professionals to connect with each other by "linking" their heart and mind", say Christine and Kim.
The Heart Link Women's Network®, 2011 and 2012 award-winning networking organization for women is intimate and welcoming. The Heart Link Network® was designed by a woman for women. It was created to showcase women and their businesses for 3 minutes versus other networking groups who only share for 30 seconds to a minute. The networking meeting fee is a nominal $25.00 which includes a business-exclusive reservation at the meeting, a roster of attendees, and a meal at the event. There is no membership fee required.
"I love seeing the heart-filled and spirit-led power, purpose and effectiveness of women creating strong and nurturing relationships as they link hearts to support one another. When relationships are created, business naturally follows", says Laura Wells, president of The Heart Link Network®.
The Heart Link Women's Network® was created by visionary Dawn L. Billings, author of over 20 books who has dedicated her life to finding ways to benefit the lives of women and children. Dawn was selected as one of 15 Women of Achievement by the YWCA in Cobb County, GA., and one of the nation's 80 emerging women leaders by Oprah magazine and The White House Project.
To register for women's networking in Manasquan, NJ, go to http://www.08736.theheartlinknetwork.com. To see a full list of women networking locations, or to submit an application to lead a chapter of The Heart Link Network®, visit http://www.theheartlinknetwork.com