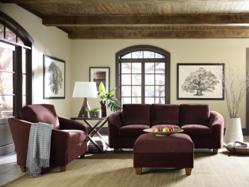 "Amazing! Wish I would have known about Simplicity Sofas as I was writing my last book....The world can learn a lot by examples set by the best of the best.

New York Times best-selling author of several business books
Shep Hyken
High Point, NC (PRWEB) November 06, 2012
The designers for the popular DIY Network TV show, Man Caves, had a small problem. To be specific, they had a small stairway problem. For their Dojo Man Cave they needed a large, comfortable sofa that could fit down a narrow 27 inch wide stairway.
They turned to Simplicity Sofas, a small North Carolina manufacturer with a very unusual product line that is not available through retail stores. The company sells direct to consumers only through its e-commerce website. Simplicity Sofas
Simplicity Sofas is the only U.S. furniture manufacturer who specializes exclusively in high quality Furniture for Small Spaces and Impossibly Tight Places. Every custom -built sofa, sleeper and chair is designed to fit through any door, hall or stairway wider than 15 inches. That is less than half the standard door width. All products are invented and designed by the company and are patent protected. They are not available through any other source.
http://www.youtube.com/watch?v=mIWNYWX72jY
Simplicity Sofas is a North Carolina manufacturer specializing in living room and family room seating in small rooms or for any size rooms which are difficult to access. The company's products include large sofas that will fit thorough extremely narrow entranceways as well as hard-to-find small sofa sizes. Simplicity Sofas also makes queen-size sofa sleepers that fit through even the narrowest entranceways.
Co-inventors Glenn Laughlin and Jeff Frank share 7 patents in the fields of ready to assemble and multi-functional upholstered furniture. Their latest patent application is the basis for the Simplicity Sofas sectional furniture.
The sectionals have been produced by the company since 2010 and currently represent about 25% of total company sales. These sectionals are designed for use in small-scale rooms where normal sectionals will not fit. On the other hand customers can also configure the sectionals into huge seating pieces that fit where no other furniture can go, through spaces as narrow as 8 inches. Here is a video showing a 7 year old girl assembling a sectional seating unit by herself in 1 minute.
Simplicity Sofas' second appearance on the Man Caves TV show (no airing date yet assigned) features a huge12 seat sectional measuring 17 ft. x 11 ft. that easily fit down the 27 inch wide stairway that was the only entrance into the Man Cave room.
All Simplicity Sofas furniture is hand-built one-piece-at-a-time by highly experienced master craftspeople in High Point, NC. The factory uses an unusual "extreme" modular customization manufacturing system that allows it to produce and ship more than 1 million different product variations in 30 days or less, utilizing only 30 different frame components.
Simplicity Sofas also has the only Total Satisfaction Warranty in the furniture industry. The warranty states, "If you do not like our furniture for any reason whatsoever you may return it for a full refund, including all shipping charges, for a period of one year after purchase."