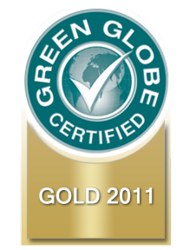 Eagle Beach, Aruba (Vocus/PRWEB) February 24, 2011
Boutique hotel Manchebo Beach Resort & Spa, located on the most beautiful white beach and turquoise blue sea, preserve a safe and healthy environment for the island of Aruba, its people and visiting guests. Through teamwork, commitment and enthusiasm management and staff of Manchebo build environmental awareness and follow the Green Globe standards, laws, regulations and reduce, reuse, & recycle throughout the property to prevent and control pollution while supporting the local merchants.
In its recognition to deliver continuous environmental improvements and to secure a sustainable future for the business Manchebo Beach Resort & Spa has been certified as meeting the requirements of the Green Globe Certification Gold Standard.
The recently renovated deluxe guest rooms feature lots of green best practices, including:

All of the deluxe guest room doors are insulated by weather strips and the patio sliding doors are tinted with double glass resulting in the air-conditioner operating more efficiently.
The guest room amenities like soaps and shampoos are vegetable based and the packaging is made out of 100% compostable bottles. The boxes are made of recycled paper and printed with vegetable inks.
The towel and linen re-use program allows them to save water and electricity.
Glass bottles, aluminum cans and paper are collected by the room attendants and are recycled.
Low watt warm light fluorescent light bulbs are installed in all light fixtures.
Dual flush toilets are installed in order to save water (1.6 Gallon / 0.8 Gallon).
Guests are encouraged to participate in the monthly island-wide beach clean-up every 3rd Wednesday of the month.
To review other green best practices at Manchebo Beach Resort & Spa please have a look at the Environmental and Eco-Friendly Best Practises sheet attached.
The resort's Green Team continues to support the environment and the community through means of sponsorship, supporting of local scholarships, charitable fundraising, local school support, contributions to the Aruba Reef Care Project, Annual Coastal Clean-ups and the monthly Sponsor-A-Mile!
For more information about Manchebo Beach Resort & Spa or the Gold Green Globe Certificate please visit the resort's website.
# # #