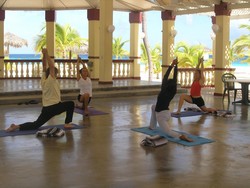 We enjoyed our yoga experience at Manchebo last June 2010! The best parts were our very knowledgeable and loving yoga instructor, the organization of activities and meeting new people & making new friends
Tallahassee, FL (Vocus) July 1, 2010
Manchebo Beach Resort & Spa is well known for the peace and quietness guests often long for during their holiday. Guests can relax, rejuvenate and liberate themselves from their daily life routine. Manchebo is home of the exotic outdoor Caribbean-Balinese Spa del Sol where they offer their guests a unique opportunity to reconnect with a variety of spa treatments.
For many people, vacation is a time to forget about your usual responsibilities. With this in mind the resort created a perfect vacation where wellness and relaxation come together. Their first Yoga Vacation in June 2010 was a big success! A group of 8 guests had a wonderful relaxing week including delicious yoga classes overlooking the beach, culinary get-togethers and fun island tours. "We enjoyed our yoga experience at Manchebo last June 2010! The best parts were our very knowledgeable and loving yoga instructor, the organization of activities and meeting new people & making new friends" adds Mr. and Mrs. Beshears from Florida.
Does your ideal holiday include morning yoga with an amazing beach view and a healthy breakfast? And in the afternoon relaxing beside the Caribbean Sea on a breathtaking stretch of beach and enjoying the lovely sunset during your late afternoon yoga class? Then you will love their Yoga Vacation! At Manchebo Beach Resort & Spa vacation, relaxation and rejuvenation for mind, body & spirit go hand in hand.
Experience and enjoy a Caribbean Yoga Vacation on Aruba's widest beach from August 7 - 14, 2010.
Professional Yoga instructor from Costa Rica, Monika Ramos Tapia will be hosting again this Yoga Vacation Week. She has taught Yoga in various locations such as the Nosara Yoga Institute in Nosara, Costa Rica and as a Faculty member at the highly recognized Omega Institute in Rhinebeck, New York and in beautiful Bellagio, Lake Como in Italy.
She has a teaching style that is eclectic, inspirational and compassionate. Monika incorporates both physical and spiritual aspects to her classes. She encourages self awareness and self observation both on and off the mat, allowing for compassion to cultivate with self and others. Her teachers include Amba and Don Stapleton PhD, Glenn Black and Jill Miller. Monika is also trained in Reiki and Vortex Healing® as well as Pranassage™ and Thai massage. "I am looking forward to our next Yoga Vacation in August. Aruba is awesome! Lovely people, delicious yoga and refreshing sea!" says Monika during her Aruba visit in June.
Reconnect to your inner self at Manchebo Beach Resort & Spa by reserving your Yoga Vacation Package.
The Aruba Yoga Vacation Package includes an ocean view room with private balcony or patio, welcome wine & cheese party, two yoga & health classes per day, guided tour at Aruba's famous Arikok National Park, island jeep tour, daily healthy breakfast including a fresh fruit smoothie, two a-la-carte lunches per stay, two a-la-carte dinners per stay and airport – hotel transfer.
Manchebo Beach Resort & Spa is an intimate 71-room resort located on Eagle Beach. The resort features 3 restaurants including the French Steakhouse and Giorgio's Ristorante Italiano. Other amenities for guests to enjoy are a pool, fitness room, free wi-fi and internet terminals and Spa del Sol offering a variety of massages, body treatments, facials and more. The resort is just 5 minutes away from the airport and downtown Oranjestad, Aruba's capital. The resort is also a certified Gold Green Globe resort.
For more information about this rejuvenating holiday or for reservations visit the resort's website, or call the resort toll-free at 1-888-673-8036.
###