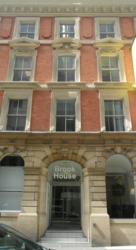 We are delighted to have secured such prestigious premises for our young EduKick player students as our new school now affords them safety, security and a comfortable base from which they can develop and mature as individuals.
~Peter Hayes, Director
Manchester, England (PRWEB) June 28, 2012
On Friday June 29 EduKick Manchester will transfer its operations to brand new premises in the central business district of Manchester city centre. Located on the 4th floor of Brook House, Spring Gardens, the new school will afford all EduKick international student-players a large, light and comfortable contemporary college learning environment.
This high spec air-conditioned suite contains 8 spacious and bright classrooms with integral overhead projectors, 2 roomy student lounges with HD tv and pcs and a stunning yet welcoming reception area. Broadband Wi-fi internet access is available throughout to allow EduKick Manchester students to follow online studies and for use in studying either ESL/EFL (for non-native English speakers) or the BTEC in Sport Science (for native English speakers).
Great use has been made of floor to ceiling glass to retain the abundant natural light. There are themed rooms, each one dedicated to an individual person prominent in Manchester's rich cultural and sporting history.
These local heroes are inspirational and have been carefully chosen along with an accompanying motivational quote to underline the basic values and ethics of the EduKick Manchester school. One such example with a football twist comes from the legendary late Manchester United manager, Sir Matt Busby:
"Winning isn't everything. There should be no conceit in victory and no despair in defeat."
However, it is only right that equal tribute is given to 2012 Premier League Champions, Manchester City FC, whose Football Development Team are engaged to deliver all football services for EduKick Manchester. Players will spend each morning Monday through Friday at our new educational institution before eating lunch and eventually making their way together over to Platt Lane (MCFC Academy training grounds and also the home training grounds for EduKick Manchester).
On a more practical note, the new school is just a 2 minute walk through a high-class neighbourhood from Piccadilly Gardens, the central transport hub of downtown Manchester. But let's leave it to EduKick Director, Peter Hayes, to have the final word:
"We are delighted to have secured such prestigious premises for our young EduKick player students as our new school now affords them safety, security and a comfortable base from which they can develop and mature as individuals."
EduKick Manchester – education and football in the historical home of English football. to learn more see the EduKick Manchester Course E-Manual here.