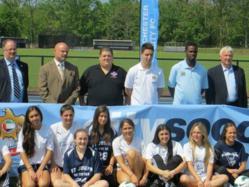 This is a historic event for Staten Island.
New York, NY (PRWEB) May 21, 2013
As part of Manchester City Football Club's 2013 U.S. Tour, the team has partnered with The Carl V. Bini Memorial Fund to donate much needed soccer equipment to help those impacted by Hurricane Sandy get back to the pitch.
Earlier today, players from Premier League Club Manchester City including Samir Nasri, Edin Dzeko, Gaël Clichy, Javi Garcia, Aleksandar Kolarov and Abdul Razak along with representatives from The Carl V. Bini Memorial Fund and local elected officials visited St. Joseph By-The-Sea High School in Staten Island, where they hosted a soccer skills training session, commemorated the equipment donation and toured the hurricane disaster area.
The donated items including soccer goals, nets, balls, pinnies and other equipment will directly impact youth soccer players that are part of the SI United Soccer Club.
"Giving back to the community is at the core of Manchester City Football Club's philosophy," said Mike Summerbee, Manchester City Football Club ambassador. "We are enthusiastic believers in the development of soccer in the U.S. and have seen first-hand the passion that North American supporters have for the beautiful game. We are thrilled to be able to provide equipment to the Staten Island community that will enable youth soccer players to further develop their skills and teamwork."
"This is a historic event for Staten Island," said Massimo DiDonna, Chairman and President of The Carl V. Bini Memorial Fund. "We are honored and touched by this donation and would like to thank Manchester City for directly impacting our community. Their visit and generosity transcends the sport of soccer and is a testament to organizations and individuals helping one another in times of need."
"On behalf of myself, other island elected officials, and my constituents, I would like to thank Manchester City Football for their donation and visit," said Councilman Vincent Ignizio. "Days and events like this are what will make this island even better and stronger than it was prior to the storm."
The soccer equipment donation and school visit are an extension of Manchester City's City Soccer in the Community (CSITC) program that provides support, coaching and quality programming for kids in the U.S.A. to play soccer. The event is also the first of a series of city-wide events taking place this week to celebrate the club's U.S. Tour and match against Chelsea FC on Saturday, May 25 at Yankee Stadium.
About Manchester City's Social Responsibility:
Manchester City FC was founded in 1880 by the family of Arthur Connell, the first rector of the newly consecrated St Mark's Church in West Gorton. The family believed that football can create opportunities and a sense of community, a belief that remains at the heart of the Club to this day. 25 years ago, MCFC was one of the first football clubs to set up a Community scheme, City in the Community. Each year, City in the Community works with over 200,000 people throughout Greater Manchester, with a particular focus on our local East Manchester community.
In recent years, the Club has taken its CSR program to an international audience, creating community opportunities across the globe; from Africa to the Middle East and China to North America. Manchester City has been supporting its communities for over 130 years and, to this day, still aims to leave a lasting and significant legacy in all the communities which it touches.
About The Carl V. Bini Memorial Fund:
The Carl V. Bini Memorial Fund was founded in honor of Firefighter Carl V. Bini, a member of FDNY Rescue 5, who was tragically taken on 9/11. The BINI Fund supports the community through scholarships, emergency grants and special needs assistance, and is uniquely positioned to adapt to the changing needs of communities, especially in times of crisis. Our mission is to provide aid for those in need within our community and beyond both now and in the future.
For more information, please visit http://www.BiniFund.org.