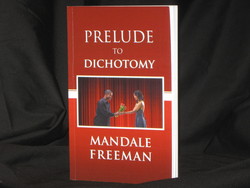 Ferndale, WA (Vocus) August 5, 2009
Author Mandale Freeman releases a book as the prelude to his screenplay, "Dichotomy." The book, titled "Prelude to Dichotomy", is about the experiences of a ladies' man and the screenplay is a story about the bachelor's new life.
Every man wishes he could be a ladies' man , and every woman loves to have one. Though, there is more to being a ladies' man than just smiles and compliments. There is the hunt, the planning, knowing exactly what to say and when, and knowing how to approach every woman. The moves are almost text book to a man like Gabriel Armour.
Gabriel Armour is a well-known and sought after bachelor. Gabriel knew women and what they wanted. He knew how to please them and conquer them. Gabriel grew into, and kept a routine; he would be with women at night and then never see them again. That is, until he met a woman named Rachel O'Donald.
Rachel O'Donald is a beautiful and successful woman. She is strong, as well as graceful. She is intelligent and classy. She is also taken. To Gabriel this should be no obstacle, so he sets his eyes on the beautiful and forbidden Rachel. Unknown to Gabriel, Rachel may prove to be more than he can handle.
Mandale Freeman has been writing since he was 21 years old, and loves it. He has also already written the next part to this book, which is a screenplay called "Dichotomy." He expects to begin production of the movie "Dichotomy" in 2010. These writings were based on his experiences, and based out of his town of Memphis, Tennessee. Mandale is roughly the same age as his character, Gabriel. He easily identifies with his characters, and influences his book with his own experiences.
For more information contact Mandale Freeman at swanpbl(at)yahoo(dot)com or visit his website at http://www.swanpublishing.us.
# # #