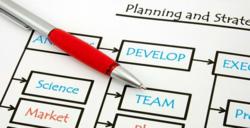 satisfaction in the community's successful growth and development into a valuable forum for members to seek strategic solutions in an environment entirely free from advertising
New York, New York (PRWEB) June 28, 2012
Mandrien Consulting Group, a consulting enterprise formed in 2008, was the force behind the launch of LinkedIn.com's Title Insurance and Process Optimization Group. Since the forum's inception, it has attracted a membership of roughly 700 C Level executives in the title insurance industry.
The concept behind the community's creation by the Mandrien Consulting Group was to offer a place for industry leaders to have open discussions, share ideas and present informal case studies of successful strategic planning initiatives. Group membership encompasses corporate presidents and officers, executives in the title and mortgage industry, entrepreneurs, leaders from the academic realm, management students, business consultants, research professionals and writers. Among the groups represented are entities such as First American Title Company, Fidelity National, Stewart Title, Westcor Title and more.
Mandrien Consulting Group is proud that the members of the LinkedIn.com group regularly address a broad array of subjects including operational and strategic planning; strategic and change management; corporate planning and transformation; management styles and entrepreneurial strategies. Participants enjoy the freedom to communicate new ideas, seek input, share challenges and benefit from the collective expertise possessed by this extraordinary group of professionals.
Mandrien Consulting Group is extremely enthusiastic about the group's recent topics of discussion, including the impact of an organization's culture on its ability to skillfully execute strategies. Other recent debates have addressed best practices for technology, automation, outsourcing and business process optimization. Widespread participation offers each and every member the chance to glean insight and information from professionals characterized by a wide range of philosophies and backgrounds.
Mandrien Consulting Group President and group founder Rusty Solomon expressed "satisfaction in the community's successful growth and development into a valuable forum for members to seek strategic solutions in an environment entirely free from advertising". Solomon further touted the group's ability to generate substantial gains in participation over the course of only six months, fostering fruitful and prolific discussion of effective corporate planning strategies.
Mandrien Consulting Group provides results-driven national title insurance licensing, process optimization consulting, digital marketing, compliance learning tools and corporate strategic planning for the real estate services industry. Mandrien offers unparalleled practical and technical experience in the title insurance industry.