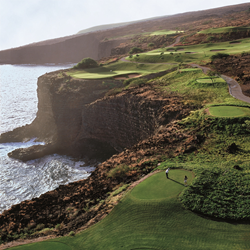 i City, Hawaii (PRWEB) May 27, 2014
Lāna' With its new "Nine & Wine" program, guests at Four Seasons Resort Lānaȉ at Manele Bay will have the opportunity to first enjoy nine holes of afternoon golf on one of the world's most scenic courses followed by wine and cheese at a cliffside restaurant aptly named, Views.
The "Nine & Wine" program is available for guests at the resort beginning at 3 p.m. and is $195/for golfers and $75 for those who want to ride along and drink the wine!
Manele is a stunning Jack Nicklaus-designed layout where every hole offers majestic ocean views. The course's signature par-three 12th hole features the tee box 150 feet above the crashing surf, challenging golfers with a deliciously dangerous shot to the green.
Views is the resort's new clubhouse restaurant that showcases views of Pu'u Pehe, or Sweetheart Rock, and the Manele Bay beach below. A bottle of wine, gourmet cheeses and island-inspired snacks will be served as part of the program. The dramatic sunset is complimentary.
The island of Lāna'i is easily accessible via air with seven flights per day (five on Island Air, two on Ohana) or five ferry crossings per day from Maui.
For more information about Four Seasons Resort Lānai at Manele Bay, visit http://www.fourseasons.com/manelebay or call (808) 565-2000.
About Four Seasons Hotels and Resorts
Four Seasons Resorts Lāna'i, located on a pristine island a few miles west of Maui reflecting a simpler pace of life and the spirit of old Hawaii, features Manele Bay and The Lodge at Koele. Guests can enjoy two exceptional experiences on one island – a quintessential beach resort and a charming upcountry lodge offering unique cultural adventures, myriad water and land activities and world-class tennis and golf. For more information, or to make a reservation, please contact Four Seasons at 1-800-321-4666, visit http://www.fourseasons.com/ Lāna'i" or join our online communities at Facebook @FourSeasonsResortsLanai, Twitter @fslanai and instagram @fslanai .