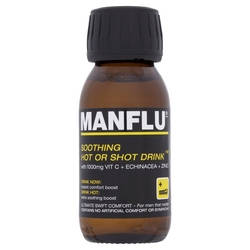 Sainsbury's Healthcare buyer, Richard Holland said, "We've already seen a huge rise in sales of Manflu. "We predict our busy female customers will continue stocking up in the coming months to ensure their husbands and boyfriends are on top form"
(PRWeb UK) November 18, 2010
New start up, Manflu company, introduce the World's first 'male comfort drink' Manflu Soothing Hot or Shot drink delivering the ultimate in swift comfort - for men that matter.
With no preparation and no fuss it can be drunk straight out of the bottle for an instant boost, or in a mug of hot water for a more soothing sensation. The natural lemon-lime and honey flavours combine with a huge dose of Vitamin C plus Echinacea and Zinc to make this the modern man's version of granny's secret recipe.
"Most men are delighted that, at last, someone has recognised how they feel". There's no medical cure for men's afflictions so anything that can offer them some extra comfort, soothing and sympathy is bound to go down well.
New research reveals the festive season is peak time for male versus female tension "the last thing she wants is him moaning and feeling sorry for himself". If the man in her life is suffering and feeling awful then usually all the people around him end up miserable too. Anything that can help him feel a bit better and stop feeling so miserable is worth its weight in gold.
It is well known that men and women have very different opinions on all important matters, top tips for men on manflu.com include "not to use the phrase 'worse than childbirth' in the first 24 hours". For women it suggests to avoid running around after him, order him a spicy curry and gives tips on the best shops to visit while he is left with the TV remote, moaning on the sofa.
If it is a boost of comfort, soothing and sympathy that's needed - it's all in Manflu Soothing Hot or Shot drink. Best served 'hand delivered' in bed or on the sofa.
Additional Notes for editors:
Available in Sainsbury's stores nationwide and online at Sainsburys.co.uk, (search term: manflu). Other retailers coming soon
Manflu Soothing Hot or Shot drink retails at £1.99 for a 60ml bottle
Special offer available in store now 'try one hot and try one as a shot'. Buy 2 for £3
Manflu Soothing Hot or Shot drink is packaged in a premium amber glass bottle to protect the high levels of vitamin and minerals, each bottle of Manflu drink contains more Vitamin C than a dozen juicy oranges (1000mg)
Designed for modern man, Manflu Soothing Hot or Shot drink contains NO artificial colours or flavours and no sugar, no carbs, no caffeine and only 7 calories per bottle
###