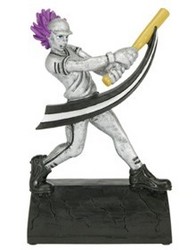 Issaquah, Washington (PRWEB) April 14, 2009
Trophies2go has been providing high quality plaques, acrylic awards, corporate awards, and sports trophies since 2000. Offering environmentally friendly products and production time that is lightning quick, Trophies2go is offering a new option of trophy that is up to speed with today's modern times.
The Manga Boy Baseball Resin Award is an award with an extra unique style. The Manga caricature is increasingly becoming more and more popular with young adults and is featured in American mainstream comics. Originating in Japan after World War II, the Manga is wildly popular in its native country, but its popularity is moving over here to North America. With its silver colored ballplayer featuring bright purple hair and uniquely modern styles, this trophy is a perfect mix of both style and action for any baseball team. It is also available in various sports such as; softball, soccer, basketball and football.
For that reason, Trophies2Go has made the Manga Trophy its 'Trophy of the Month' of May; as a spotlight product in the spring trophy series.
For more information, visit http://www.Trophies2go.com.
Phone Number: 877-926-4700
# # #