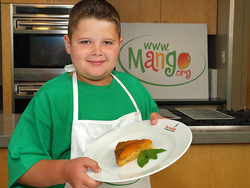 It was great to spend time with all of the finalists and see them share the same enthusiasm for cooking as I do
Orlando, Fla. (PRWEB) August 22, 2008
The National Mango Board is proud to announce Dean Sturt, of Rowlett, TX, as the winner in their first ever Rising Mango Star video contest. Dean stood out amongst other aspiring chefs with his unique video and stellar dish, Mangolicious Flip Flop Cake.
However, the road to mango victory wasn't easy. Dean had to battle it out against two other Rising Mango Star contest finalists, Dylan Beiersdorf and Catherine Ralston, in a final judging cook-off at The Institute of Culinary Education in New York City. The trio also had a judging panel of reputable food experts to wow, including Simply Delicioso star Ingrid Hoffman, Chef Allen "The Mango Man" Susser, and Regina Ragone, food director of Family Circle magazine. After much tasting, questioning and deliberation, the judging panel chose Dean for his creativity, presentation and exquisite use of mango.
"It was great to spend time with all of the finalists and see them share the same enthusiasm for cooking as I do," said Latin food and entertaining expert, Ingrid Hoffmann. "All of the dishes were incredible and I was blown away by Dean's mango recipe, it was so original and the taste was a mango lover's dream!"
The grand prize for Dean was an opportunity to appear with Ingrid Hoffmann in the September issue of television's video magazine Health & Home Report.
"I was really excited to cook with Ingrid--I had so much fun! She knows so much about cooking, especially about cooking with mangos," said Rising Mango Star winner, Dean Sturt. "She gave me lots of good ideas so I can keep cooking with my favorite fruit."
Dean is no newbie to the kitchen, in fact he's been cooking since he was three years old. His mom used to hear him scooting the kitchen chair up to the counter to make "soup," a pan filled with water and spices. Since then, Dean has been cooking non-stop and wants to someday make it his career.
His recipe was inspired by his mom and his favorite part of any meal--dessert! Dean wanted to create a recipe to appeal to those with the same love for sweets. Dean's Mangolicious Flip Flop Cake recipe is a moist cake made with fresh pureed mangos. The cake resembles a traditional upside down cake, but instead has a beautiful design of scrumptious mangos on the plate. A real work of art!
"We are truly pleased with the outcome of our first ever Rising Mango Star recipe and video contest. We're incredibly proud of Dean's and the other finalists' hard work and mango enthusiasm," said Wendy McManus, director of marketing for the National Mango Board. "We can't wait to see what our contestants come up with next year!"
Visit mango.org/risingstar to view Dean's winning recipe and video!
For more information concerning entries by children under the age of 13, see our Notice to Parent and Legal Guardian regarding the Children's Online Privacy Protection Act ("COPPA") Policy at mango.org/risingstar .
About National Mango Board
The National Mango Board is a national promotion and research organization, which is supported by assessments from both domestic and imported mangos. The board was designed to drive awareness and consumption of fresh mangos in the U.S. Mangos are an excellent source of vitamins A and C, a good source of fiber and an amazing source of tropical flavor.
Mango consumption per capita has quadrupled since 1990 to an estimated 2.2 pounds per year in 2007. Mango import volume for 2007 was 661 million pounds, 3 percent more than 2006 and 15 percent more than 2005. According to Consumer Research commissioned by the National Mango Board, 35% of U.S. customers purchased mangos within the past 6 months.
Learn more at mango.org.
About Ingrid Hoffmann
Growing up in her mother's kitchen, who is a Cordon Bleu chef, Ingrid discovered her passion for food and entertaining, developing dishes with a Latin twist. Hoffmann is the host of Food Network's Simply Delicioso as well as the hit series, Delicioso on the Spanish-language network, Galavision/Univision, which is currently in its fourth season. More of Hoffmann's cooking and entertaining ideas are included in her debut cookbook, SIMPLY DELICIOSO: A Collection of Everyday Recipes with a Latin Twist, which was released in February 2008.
###