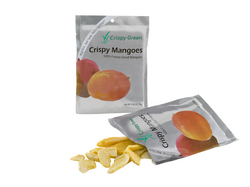 Mango is one of the most popular tropical fruits in America and its popularity continues to grow by the day. We are delighted to add Crispy Mangoes to our growing Crispy Fruit product line to keep this exotic fruit in season all year long
Fairfield, N.J. (PRWEB) May 25, 2010
Crispy Green Inc., the maker of Crispy Green® premium Crispy Fruit and FruitziO® freeze-dried fruit snacks, today announced the addition of Crispy Mangoes to its popular, growing line of all natural and wholesome Crispy Fruit snacks.
Crispy Green's new Crispy Mangoes keep mangoes in season all year round and ready to eat straight from your home pantry. These tasty, healthy freeze-dried mangoes will delight your taste buds with intense, sweet Mango taste and a light, crispy crunch.
Crispy Mangoes are made of 100 percent high quality, freeze-dried mango slices and nothing else - no added sugar, preservatives (including sulfides), colors, fat, cholesterol or sodium. Crispy Mangoes are also vegan-friendly, peanut/tree nut-free, dairy-free and gluten-free and are kosher certified.
Crispy Mangoes freeze-dried fruit snacks contain approximately one serving of fresh mangoes in a single serving (.36 ounce) bag and provide the same all natural fruit fiber and nutrients as fresh mangoes - without the messiness. The products' long shelf life (36 months) and portability provide children and adults with a nutritious, go any-where snack that can be enjoyed anytime.
Available in moisture-free, convenient .36 ounce single serving size bags or the handy 'Grab & Go' 6-PACKS (six single-serving bags in one large, easy-to-carry bag), Crispy Mangoes provide the wholesomeness, natural goodness and fresh flavor of Mangoes in small, snack-sized portions.
Crispy Mangoes are a healthy choice for kid's lunches, hiking, school, work, or as in between snacks on the go. Crispy Mangoes can also be enjoyed in cereal, yogurt or ice cream.
"Mango is one of the most popular tropical fruits in America and its popularity continues to grow by the day. We are delighted to add Crispy Mangoes to our growing Crispy Fruit product line to keep this exotic fruit in season all year long," says Angela Liu, President and Founder of Crispy Green. "It took several years to develop Crispy Mangoes because finding the right variety of mangoes that meet our quality standard was much harder than we expected. The launch of Crispy Mangoes demonstrates Crispy Green's commitment to developing unique, high-quality products that make healthy snacking fun for kids and adults."
Crispy Fruit is also available in four other delicious flavors: Crispy Apples, Crispy Asian Pears, Crispy Bananas and Crispy Pineapples.
All of Crispy Green's products can be found in the produce and grocery aisles of many leading supermarkets such as Acme, Diebergs, Earth Fare, The Fresh Market, Heinens, Kings, Market District, Shop Rite, Ukrops and Whole Foods Markets and natural and specialty food stores such as Balducci's, Carmine's Gourmet, Garden of Eden, Market Baskets and Natural Frontier located throughout the United States at a suggested retail price of $1.49. Crispy Mangoes can also be purchased from Crispy Green's online store at http://www.crispygreen.com/crispy-green/view-all-products.html or at http://www.amazon.com.
To find a retailer in your area that carries Crispy Green's products, go to http://www.crispygreen.com/where-to-buy.html.
For more information about Crispy Mangoes and other Crispy Green products, please visit the Crispy Green Web site at http://www.crispygreen.com.
About Crispy Green
Crispy Green Inc. (http://www.crispygreen.com) is the maker of Crispy Green Crispy Fruit freeze-dried fruit snacks and the new line of FruitziO freeze-dried fruit snacks. The company was founded in August 2004 with a vision to be the leading provider of high quality, natural food products desired by everyone who wants to live a healthy and better life.
The Crispy Fruit and FruitziO line of snacks are made of only the finest fruits available. A sophisticated freeze-drying process removes the water from fresh, sweet fruit, leaving behind the fruit's true essence in a light and crispy texture that's perfect for snacking. Crispy Green's line of Crispy Fruit and FruitziO are a delicious, convenient way to add more fruit to your daily diet.
In 2005, Crispy Green introduced its line of Crispy Fruit in the United States. Since then, Crispy Green has been adding one new product each year to its Crispy Fruit product line to meet its rapidly growing distribution footprint. In 2009, Crispy Green launched Strawberry FruitziO, its first product in its new line of FruitziO freeze-dried fruit snacks.
# # #