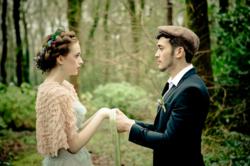 The Irish are superstitious, so incorporate some good luck charms to bring the wedding day and marriage good fortune.
San Francisco, CA (PRWEB) March 14, 2013
Traditionally in Ireland, St. Patrick's Day is considered the luckiest day of the year to be married and if one were lucky enough to have their wedding on St. Patrick's Day, incorporating Irish traditions is a must. St. Patrick's Day is a religious holiday, but is also about celebrating Ireland and the Celtic culture. Mango Muse Events, top destination wedding planner, shares some Irish traditions and 7 tips on how to incorporate them into a modern St. Patrick's Day wedding.
1. Have a Natural Wedding. Many traditional Irish weddings would be considered eco-conscious these days. Most were held outdoors in a natural setting and many Irish brides wore a wreath of local and sustainable wildflowers in their hair and carried a wildflower bouquet. To make it modern, keep the venue outdoors, but bring in some favorite flowers of the couple instead.
2. Go Beyond Green. While green is always associated with Ireland, it used to be considered unlucky for a wedding as it might entice malicious fairies. Blue is actually considered to be a very important color as it symbolized purity in ancient times. To modernize it, consider having a bit of both colors. Include the blue and bring in some green to keep it natural and then accent it with the couple's favorite color.
3. An Irish Feast. Take traditional Irish foods like Irish stew, potatoes, soda bread, corned beef and cabbage and modernize them. Work with the catering team to include some of the traditional ingredients, but to the tastes of the couple. Pick drinks the couple likes, but consider including Irish favorites like whiskey, mead, Guinness and Irish coffee. Traditionally, the wedding cake is a whiskey cake or spiked fruitcake. Modernize it by picking a cake the couple likes instead and consider adding some alcohol to the top tier and saving it for a later celebration.
4. Ceremony Customs. The ceremony is a great time to include ancient Celtic traditions like handfasting ("tying the knot") and exchanging Claddagh rings. With handfasting, partners hold hands with their wrists crossed and a ribbon is wound around the top of one wrist and under and around the other wrist, creating the infinity symbol. Personalize the ritual by choosing a special ribbon or fabric or another type of tying material. Exchanging Claddagh rings is a sign of commitment and love and shows that their heart has been taken. To modernize the custom, use normal rings but inscribe them with a heart so that it still faces towards the wearer, but isn't shown on the outside.
5. Ring the Bell. Traditionally, bells were thought to ward off evil spirits and were also used to end an argument and make a truce, reminding the couple of their wedding vows. To modernize it, give wedding guests bells to ring at the end of the ceremony instead of throwing petals. The bells can also be used during the reception to get the couple to kiss.
6. Have a Party. For the reception, consider incorporating a traditional Irish wedding toast, Irish music like bagpipes or even Irish dancers in a modern way. Keep it fun and tweak the wording of the toast so that it fits well with the couple. Bagpipes could be used at the ceremony or to introduce the couple and then have more modern music played by an Irish band.
7. Lucky Charms. The Irish are superstitious, so incorporate some good luck charms to bring the wedding day and marriage good fortune. Have the bride carry a mini horseshoe in her bouquet or sew one into her dress. Pick a date in a warm, sunny month so that the chances of the sun shining are high. Incorporate the use of a lace handkerchief (a symbol of fertility) into the wedding either held by the bride (in her bouquet or dress) or as a part of the decor.
Mango Muse Events is a boutique event planning and design firm specializing in customized destination weddings and events both big and small. Mango Muse Events doesn't just plan weddings, they create custom wedding experiences. Marrying their planning expertise with their design creativity, Mango Muse Events takes a wedding or event to the next level by making the process and the event completely customized. Mango Muse Events is based in the San Francisco Bay Area and orchestrates events across the world from California to Bali, Mexico to Italy, New York to the Caribbean, Hawaii to Paris and everywhere in-between. Please visit http://www.mangomuseevents.com for more information.