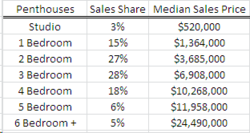 Live in the sky, live in your dream... Manhattan Penthouses offer high price and high rewards!
Manhattan, NY (PRWEB) October 03, 2012
The high demand for luxury living in Manhattan New York has been directed to homes on the top floor or floors of a building. High Net worth individuals are looking for unique penthouses that provide breathtaking panoramas views of the city that never sleeps.
Many penthouses for sale in NYC provide impressive indoor space scheme, landscaped outdoor space, cozy fire from the fireplace and the evenings with the sunset on the terrace.
The priciest penthouse in today's Manhattan market is a $100,000,000 octagon-shaped condo in Midtown Manhattan according to Streeteasy.com. The 2nd priciest penthouse has an asking price of $95,000,000 and is located on Central Park South. The 3rd priciest Penthouse is priced at $60,000,000 and in the Upper East Side. The lowest priced penthouse is a studio coop at $299,000 in the Upper West Side.
Approximately 291 penthouses are available for sale in Manhattan New York. 20% of them are priced at over $10M and 6% of them have an asking price over $20M. Most penthouses over $20M have soaring ceiling heights, a huge outdoor space and most of all, stunning views.
Prices vary depending on the neighborhoods, the location, the view and the amenities. The current median price of NYC penthouses is approximately $7,200,000.
The penthouse share for a studio penthouse for sale is 3% and its median price is $520,000 and 1 Bedroom makes up 15% at median price of $1,364,000. 2 and 3 bedrooms are most common in NYC penthouses for sale at 27% and 28% at average price of 3,685,000 and $6,908,000. 4 bedroom penthouses are the third popular category for sale at 18% at $10,268,000. 6% of penthouses for sale have 5 bedrooms at $11,958,000 and 5% have over 6 bedrooms at $24,490,000 in Manhattan New York.
68% of all on market penthouses are condos, 3% condops and 29% coops.
On average, 64% of all available penthouses on the market in Manhattan New York have outdoor space. Approximately 75% of penthouses for sale in downtown Manhattan have outdoor space, which shows the highest rate, followed by Midtown West, Midtown East, Upper Manhattan and Upper East Side that are ranging from 65% to 70%.
Currently the highest median price is found in Central Park South at $30M. High priced Central Park South penthouses for sale boast sweeping views of Central Park. The next highest median prices are seen in Tribeca at $11M, SoHo $10.6M and Fifth Avenue at $9.6M, respectively.
The majority of the penthouses on the New York market are fully renovated with granite counter tops, marble baths and hardwood floors throughout.
NYC's urban pressure is unusual; nevertheless, its luxury home market has much more to propose. Hence, luxury New York penthouse living not only offers the regular apartment advantages such as security and convenient location but also all those enhancements such as size, airy design, high-end appliances, finest materials, luxury floor plans and much more.
Live in the sky, live in your dream. NYC Penthouses offer high price and high rewards.
Manhattan Penthouse Market Report by Kelsey Uh