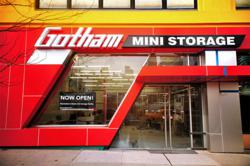 When you use Gotham Mini Storage in Manhattan to store your business inventory it's like having your own portable warehouse that can grow as your business and office storage needs grow
New York, NY (PRWEB) May 31, 2013
Gotham Mini Storage, the latest and greatest state-of-the-art self storage in New York, caters to startups and small Manhattan businesses by providing affordable storage solutions to store inventory, business records, documents, and office supplies. Freeing up office space for actual business use rather than business inventory storage can easily save $10,000 - $15,000 a year to a small business.
Gotham Mini Storage's Office Manager, Adam Goldstein says, "When you use Gotham Mini Storage in Manhattan to store your business inventory it's like having your own portable warehouse that can grow as your business and office storage needs grow. We've got lots of small businesses using our facility to store stock, promotional materials, product samples and business inventory. For small to medium businesses that don't need and can't afford a huge warehouse, Gotham Mini Storage is a great option. You don't have the heavy cost associated with warehouse space and no long-term commitment and still you have all the amenities, like security, climate controlled conditions, and 24/7 accessibility."
Co-owner of Gotham Mini Storage, Steve Schwartz, explains, "While you certainly have the option of renting additional office space the bottom line is it's far more cost effective to rent mini storage space rather than office space, especially when you factor in the extra expense for heating and electric. In many cases, our customers are even able to eliminate the need of having an office space and that frees up the cash that they can invest in to building their business."
Several Manhattan-based businesses and industries that are well matched to using business self storage at Gotham Mini Storage, are:

Entrepreneurs and startup businesses can operate from home or a small office while leveraging self storage to store business inventory and documents.
Show operators need space to store their equipment during off season.
Retail stores with 'busy or hot' periods that require lots of additional inventory - like Halloween, back to school sales, Black Friday promotions, and seasonal merchandise all benefit from self storage to store items.
Restaurants benefit from a climate-controlled environment to store seasonal decorations, signage, extra chairs, tables, glassware, plates, decorations, tablecloths, napkins, etc.
Professional home stagers can store home furniture and decorative accessories in climate controlled storage units to access when staging homes and apartments to make the space more attractive to prospective buyers and renters.
Pharmaceutical reps can organize and store samples and inventory in a climate controlled storage unit. With 24/7 hours they have easy access to their supplies when they need them, eliminating the need to store supplies in their car's trunk.
ecommerce sellers use self storage to keep and manage their inventory in one clean, safe space instead of cluttering up their office or house.
Contractors such as carpenters and landscapers find self storage a convenient way to store big, bulky equipment, tools and supplies. This includes equipment like snow blowers, lawnmowers, shovels, rakes, saws and mixers.
We are always faced with rising costs not only in the home rental market, but even more critically in the commercial market. Commercial rentals also require long term commitments that startup businesses hesitate getting into. Self storage facilities charge much less per sq ft than commercial office space and don't require any commitment. Because of this, storage units have become an alternative in Manhattan, NYC for small and medium sized businesses that want to keep expenses in check.
About Gotham Mini Storage
Located at the corner of 10th Avenue and 39th Street in Manhattan NYC, the new, gleaming self-storage facility is convenient to residents of Manhattan's Hell's Kitchen, Chelsea, and Midtown neighborhoods. Gotham Mini Storage offers 2,000 competitively priced brand new storage units ranging in sizes from 4'x4' lockers through 80'x20' extra-large rooms. Storage units can be adapted with shelves, lights, clothing racks, and extra tall 11-foot ceilings to accommodate each client's special requirements. Aisles throughout are climate controlled, lit with energy efficient lighting, carpeted, and have over 100 security cameras. Customers enjoy free Wi-Fi, coffee bar, modern self-storage facility, and concierge moving solutions by experienced self-storage professionals. More information can be found on gothamministorage.com or by calling 212-931-5731.