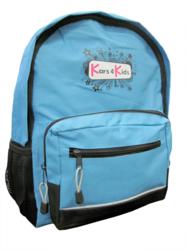 It's a privilege to be able to do our small part, along with our wonderful partners, to help these families and their children
Lakewood, NJ (PRWEB) August 24, 2012
The Kars4Kids Car Donation Program and New York City Councilwoman Melissa Mark-Viverito are teaming up to distribute up to 500 backpacks in Manhattan as part of Kars4Kids' new Back to School Backpack Giveaway Program. Besides for this giveaway, Kars4Kids is organizing four other similar events in Brooklyn, Queens and the Bronx. Free backpacks are also available to the public online on the Kars4Kids backpack page.
The Kars4Kids Backpack Giveaway Program is a back-to-school initiative aimed at helping struggling families with the rising expenses of school supplies. The various live giveaways will allow parents to receive the handy school accessory in person and on the spot. "There are so many hard-working families out there that just can't make ends meet in this economy," a Kars4Kids spokeswoman said Tuesday. "It's a privilege to be able to do our small part, along with our wonderful partners, to help these families and their children."
New York City Council Member Melissa Mark-Viverito is serving her second term representing Manhattan's District 8, which encompasses Central Park and Randalls Island and includes the East Harlem and Upper West Side neighborhoods. The El Barrio/ East Harlem Youth Violence Task Force is but one of the programs with which Councilwoman Mark-Viverito has been involved which demonstrate her commitment to improving quality of life in the city for our youth.
The giveaway will take place at the annual "Speak up, Speak out, Take Action" Teen Fair, hosted by the Council Member Melissa Mark-Viverito. The purpose of the street fair is for local community based organizations who provide services geared towards teens to come together and disseminate information.
The Manhattan giveaway is scheduled for Tuesday, August 28 at 104th Street between Lexington and 3rd Avenues. The event will begin promptly at 1:00 PM and will continue until 4:00 PM or until the supply of backpacks is exhausted.
There will be a designated area for members of the media at the event.
The backpack program is just one of the many educational initiatives that Kars4Kids employs throughout the year to help children reach their educational potential.
Follow Kars4Kids on Facebook to stay up to date on Kars4Kids activities throughout the year.