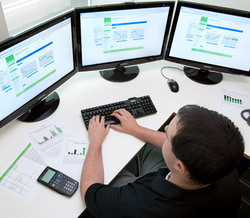 1 World Trade Center Reaches Milestone
Los Angeles, CA (PRWEB) August 19, 2009
iCrete, a clean technology leader and the world's premier concrete technology company, confirmed today several new milestones reached by concrete construction crews at 1 World Trade Center in lower Manhattan.
Said iCrete's President and Chief Operations Officer, Tom Schneider: "iCrete-designed mixes are being used to produce 240,000 cubic yards of concrete for the tower at 1 World Trade Center. Construction of the structure, one of iCrete's first committed applications, has now passed the 100-foot level and is visible to millions in New York City as it now rises above project fencing."
The project is also now setting other production records. According to a statement from Tishman Construction: "Workers are erecting steel and pouring concrete on a daily basis, placing some of the largest steel members ever fabricated and completing some of the largest continuous pours on record."
Added Schneider: "The project recently completed a single 14-hour session during which crews poured 1,250 cubic yards."
The 2.6-million-square-feet, 102-story 1 World Trade Center complex is owned by The Port Authority of New York and New Jersey. Tishman Construction is managing construction and Collavino Construction Corp. is responsible for concrete and steel. iCrete-designed mixes are being used for the central tower at the site, as well as the safety core supporting the superstructure.
McGraw-Hill's New York Construction magazine reported last week: "The (construction) team is using 14,000-psi iCrete, a precisely blended mix of aggregates and cement, for the up-to 6-ft, 6-in thick core shear walls. Thirteen shear walls had been poured as of last month, with the psi reaching 17,000 psi on several occasions."
A second lower-Manhattan high-rise, the spectacular Beekman Tower - developed by Forest City Ratner and designed by world-famous architect Frank Gehry - is also under construction and using iCrete-designed mixes.
The Beekman is now more than 30 floors high, already visible from the Hudson River to the East River. The 72-floor structure on Spruce Street near New York's City Hall will be Manhattan's tallest residential building and crews will have poured 280 million pounds of iCrete-designed advanced concrete mixes by the time it is completed. The Beekman will also house an elementary school, a hospital, and retail spaces.
For more about iCrete success in New York City, read "1 World Trade Center Reaches Milestone" by Jack Buehrer and Debra Wood in the August 12, 2009 edition of McGraw-Hill's New York Construction.
About iCrete
iCrete is a clean-technology provider of advanced concrete production systems to the construction industry. iCrete's mission is to elevate the construction and concrete industries to a new standard of profitability, standardization and environmental stewardship. iCrete's core business is licensing the iCrete system, a mix design and quality solution for concrete producers, which is transforming the way ready mixed and precast concrete is designed, produces and used worldwide.
###