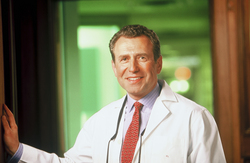 With PearlinBrite®, the results are immediate
New York, NY (Vocus) December 14, 2009
PearlinBrite®, a unique in-office laser whitening system offered in the Manhattan offices of Dr. Jan Linhart has been attributed with "almost 100% tooth whitening success in the majority of cases" to-date, according to the prominent dentist's website.
While Dr. Linhart has also developed PearlinBrite® oral home-care products, including toothpaste and lip balm, he recommends his in-office system for dramatically whiter teeth. During this whitening process, specially formulated gels are applied individually to each tooth. This allows Dr. Linhart to avoid existing cosmetic dentistry and focus on particular teeth, increasing both safety and effectiveness. Dr. Linhart cites this precision as an important factor in the system's whitening success, stating, "Because PearlinBrite® is so precise, we are able to minimize exposure of the gums and avoid issues of gum tissue sensitivity while getting great results." Other whitening systems lack a comparable degree of flexibility and precision.
Dr. Linhart explains that while the results of the in-office tooth whitening treatment vary from patient to patient, one can expect a nine to ten shade improvement after a single visit. "With PearlinBrite®, the results are immediate," says Dr. Linhart. The procedure takes approximately two hours to complete and results immediately in a whiter, brighter smile.
PearlinBrite® was developed by Dr. Linhart, who has been practicing advanced dentistry for the last twenty-five years, as he sought a way to perfect tooth whitening. Like other whitening treatments, it uses a laser to activate peroxides in gel, exciting oxygen to "attack" stains on the teeth. But unlike other systems PearlinBrite® uses two lasers instead of just one. This, combined with several carefully formulated, laser-specific gels, increases the procedure's effectiveness.
"It comes down to what is best for the patients," states Dr. Linhart, "how to help them achieve a beautiful, healthy smile. That is why I developed PearlinBrite®, and I am thrilled by its success."
PearlinBrite® laser tooth whitening is available exclusively in the Manhattan offices of Dr. Jan Linhart.
Dr. Jan Linhart, DDS, a Manhattan based restorative and cosmetic dentist attracts patients from around the world. Come by our Park Avenue Manhattan office to inquire about our Pearinbrite teeth whitening procedures and other state-of-the-art dental services that we offer including implant dentistry, orthodontics, porcelain veneers, and more.
###