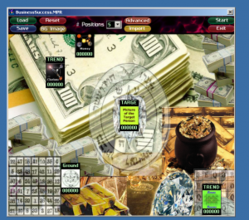 Manifestation Pro 2012 is the ideal radionics program for many users. By including the barrage function users can make the most of a single Welz Chi generator to power multiple and diverse operations by sequencing the operations and letting them repeat
Dallas, TX (PRWEB) August 22, 2012
RadionicsBox officially releases there final version of Manifestation Pro 2012, their Windows 7 compatible professional level five position orgone radionics software program for orgonite powered manifestation operations.
Manifestation Pro is a scaled down version of the the Super Manifestation Ultimate 2.0 2012 codebase with some additional changed. To begin the screen is now square as opposed to the rectangular look of previous versions. The position number is limited to five, however operations can be created with 2-5 positions. Like its older brother, Super Manifestation Ultimate 2.0, the Manifestation Pro radionics software comes with a large selection of user installer image packs (.IPAK files) allowing the user to dynamically expand the library of images. Unlike the previous version the five positions can be moved around the screen and there are three options for position sizing. In addition the to included image packages a large operation package is included that contains many pre-built operations categorized by type. Users can be up an running quickly using the pre-built operations by applying minimal customizations to the text fields and by selecting a target image. The wildly popular "barrage" mode from Super Manifestation Ultimate 2.0 is also included allowing a sequence of up to twelve operations to repeat until the user shuts the program down.
"Manifestation Pro 2012 is the ideal radionics program for many users. By including the barrage function users can make the most of a single Welz Chi generator to power multiple and diverse operations by sequencing the operations and letting them repeat. ", says Mike Devino product specialist for RadionicsBox.com.
Welz Chi generators are manufactured by HSCTI, BEC and feature genuine orgonite, invented by Karl Hans Welz.
RadionicsBox.com is a retailer of orgone radionics and psychotronics devices built by Karl Welz and also distributes radionics software programs.