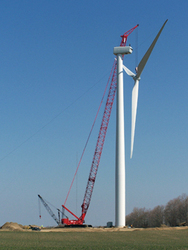 Houston, Texas (Vocus) June 20, 2010
Bigge has purchased the third Manitowoc 16000, slated for immediate deployment in their crane rental fleet. The 16000 is optimized for wind turbine erection. Bigge recently was the first crane contractor to deploy the new heavy-boom Manitowoc 16000. With their two current Manitowoc 16000 under contract for rent until the end of the year, Bigge has purchased a third 16000 to service its growing wind turbine erection business.
Bigge, one of the nation's largest and fastest growing crane rental companies, had recently purchased two 16000's, each with 292 ft heavy boom and new 23' wind jib. The Manitowoc 16000 is unparalleled when erecting 2.5 MW turbines on 80m & 85m towers.
Just as with the Manitowoc 16000 cranes currently in Bigge's fleet, this new 16000 is available for deployment from Bigge's new regional headquarters in Houston, TX.
About Bigge Crane:
Bigge Crane and Rigging is one of North America's largest crane sales and crane rental companies. Bigge specializes in heavy lift, heavy rigging and specialized transportation projects for the refinery, petrochemical, power and civil infrastructure industries. Their headquarters are in San Leandro, CA, with ten offices nationwide.
# # #