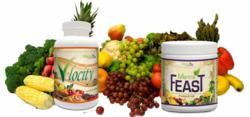 MannaLife International is not the typical relationship marketing business opportunity. Thus our sample program is not going to be typical either.
Largo, FL (PRWEB) August 09, 2011
MannaLife International announced August 1, 2011 that they were extending their corporately sponsored, no-inventory, free sample program for all active and registered MannaLife International Business Associates to help them build their businesses. MannaLife International sample sizes are no ordinary sample sizes. Their samples last a potential customer as long as 10 days.
MannaLife International CEO and President, Joseph Miller, commented, "MannaLife International is not the typical relationship marketing business opportunity. Thus our sample program is not going to be typical either. We know how critical that first customer experience is to our Business Associates and their efforts in building a strong, long lasting business. We know our products leave a lasting impression and we think a taste just isn't reasonable. Plus, our sample program is a truly free sample program this month. No gimmicks or catches. Our goal is to get people to try our products, period. One of our new distributors put it best, 'Try it, we know you'll buy it.'"
David "Uri" Lebaron, the VP of Product Development at MannaLife International, formulated these products to work synergistically together. MannaLife International's August 2011 sample set includes two of the three natural, whole food products that MannaLife International currently offers. The first product is their flagship product called MannaFeast™ which includes 170 different whole food ingredients. Additionally, MannaFeast™ contains probiotics in each serving. The second product is called V-Locity 3X™ which is MannaLife International's crash-free energy capsule. This amazing product gives individuals up to 9 hours of crash-free, jitter-free energy. Plus V-Locity 3X™ uses no artificial stimulants, sugars, or chemicals that can be detrimental to your body's natural energy production. MannaLife International is calling this their "Ultimate Energy Solution" sample pack.
MannaLife International CEO, Joseph Miller commented, "Uri Lebaron's proprietary drying process, MannaFresh™, gives MannaLife International's nutritional whole food products a significant advantage. Our drying process makes our products more nutritionally dense than the competition. We all know that the higher the nutritional density of a food, the better it is for your body."
Furthermore, MannaLife International has announced that it is doubling some of the commission payouts. In short, this means that a MannaLife International Business Associates could receive up to 70% in Fast Start commissions during August. MannaLife International is coming onto the relationship marketing scene quickly and with purpose. If this is how MannaLife International is beginning their corporate branding strategy, one can only imagine what's coming down the pipeline.
About MannaLife International
MannaLife International corporate headquarters are in Largo, FL. MannaLife International provides a multifaceted opportunity to improve people's quality of life. MannaLife International nutritional products are derived from live, whole-food concentrates. These unique and nutrient-dense nutritional products fill voids in the ever lacking diets of modernized civilization. Our proprietary formulation and drying process, called MannaFresh™, ensures that our products are the "Cadillac®" of the industry.
For more information about MannaLife International products and its opportunity please visit http://www.MannaLifeInternational.com
###