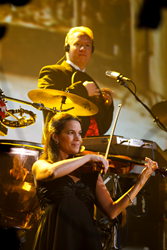 "Mannheim Steamroller Christmas is one of the most popular holiday concerts in the world....Since hosting Mannheim Steamroller in 2012, this show has been our most requested holiday event by fans," said Bob Klaus, GM for DPAC.
Durham, NC (PRWEB) March 31, 2014
Mannheim Steamroller will present the best the holiday has to offer this season. Fans young and old will flock to DPAC, Durham Performing Arts Center, on December 2, 2014 to experience the dazzling multimedia effects that only Grammy® Award winner Chip Davis can bring to life. Their last performance in 2012 was a sell-out.
Tickets go on sale Friday, April 4 at 10 a.m.:

Online at DPACnc.com
DPAC Ticket Center: 919.680.2787, 123 Vivian Street, Durham, NC
Ticketmaster.com / Ticketmaster Charge by phone at 800.745.3000
Friends of DPAC members may place their orders on April 2. Joining Friends of DPAC is free, and you can register at http://www.dpacnc.com/fod.
"Mannheim Steamroller Christmas is one of the most popular holiday concerts in the world, and we are thrilled that they have chosen to return to DPAC this December in the 30th anniversary tour. Since hosting Mannheim Steamroller in 2012, this show has been our most requested holiday event by fans. DPAC's theater setting is unmatched in the Triangle for multimedia events like this Christmas favorite," said Bob Klaus, GM for DPAC.
This year marks the 30th Anniversary of the Christmas Tour and release of Mannheim Steamroller Christmas, an album that revolutionized the Holiday Season music category. It's also the 40th Anniversary of Davis' first album in his Fresh Aire series which pioneered the New Age music category.
Grammy Award® winner Chip Davis will direct and co-produce Tour performances with MagicSpace Entertainment. The show features classic Christmas hits from Mannheim Steamroller and multimedia effects in an intimate setting.
In addition to being a holiday tradition for many families, the Mannheim Steamroller Christmas Tour regularly attracts repeat attendance from multi-generational guests and is one of the longest running tours in the music industry.
Davis plans to release a new album, Mannheim Steamroller 30/40, this fall. In celebration of the 30th Anniversary Christmas Tour, tracks will include Christmas fan favorites while selections from Davis' iconic Fresh Aire series and recordings by his daughter, Elyse, will celebrate 40 years of ground-breaking sound.
Mannheim Steamroller has sold more than 40 million albums, 28 million in the Christmas genre. With a total of twelve holiday CDs, an average of eight Mannheim Steamroller Christmas albums occupy Billboard's Top Seasonal Chart every year.
With 19 gold, 8 multi-platinum and 4 platinum-certified records, Chip Davis is among an elite group of artists that include U2, Jay-Z, and The Beach Boys with such certifications.
About Mannheim Steamroller
Mannheim Steamroller is the #1-selling Christmas artist of all time. With more than 40 million total records and 28 million Christmas albums sold, Mannheim Steamroller founder Chip Davis has revolutionized the making and marketing of holiday music. The group's annual Christmas tour is one of the country's longest running tours. consistently ranks among top national tours. Davis offers a rich array of lifestyle products on http://www.mannheimsteamroller.com including hot chocolate, food, apparel and novelty items. His latest achievement is creating a cutting edge psychoacoustic technology that is being
About Chip Davis
From his longtime home in Omaha, Neb., Mannheim Steamroller creator Chip Davis makes innovative music inspired by the sounds of another age. This former teacher and jingle writer founded the music industry's largest independent recording label, American Gramaphone, in 1974 when industry executives said Davis' innovative 18th century instrumental rock sound would never sell. In addition to a Grammy Award, Davis is largely credited with establishing the New Age music category. His first Christmas album was released in 1984; the album's success made Christmas records a "must do" for all music artists.
About MagicSpace Entertainment
MagicSpace Entertainment is headed by Lee D. Marshall, Joe Marsh, John Ballard, Steve Boulay and Bruce Granath and has been producing and presenting national tours, Broadway shows, concerts and museum exhibits worldwide for over 30 years. Consistently one of the top promoters in North America, MagicSpace Entertainment typically produces and presents more than 250 events in 75 cities per year. Broadway credits include Donny & Marie – A Broadway Christmas, The Who's Tommy, American Idiot and RAIN - A Tribute To The Beatles On Broadway. National tour credits include Lord of the Dance created by Michael Flatley, Jamie Hyneman and Adam Savage starring in Mythbusters - Behind The Myths, Alton Brown Live, Mannheim Steamroller Christmas by Chip Davis, Donny & Marie Christmas, RAIN – A Tribute to the Beatles, David Copperfield, Jesus Christ Superstar, A Chorus Line and concert tours by Janet Jackson, Cher, and Fleetwood Mac to name just a few. Museum exhibitions produced on the road include Tutankhamun and the Golden Age of the Pharaohs exhibition, Titanic: The Exhibition and Diana – A Celebration. MagicSpace Entertainment has offices in Park City and Salt Lake City, UT. http://www.magicspace.net
####
ABOUT DPAC:
Since its opening in 2008, DPAC, Durham Performing Arts Center, has become the center for live entertainment in the Triangle. Recognized for its contemporary design, DPAC features 2,700 seats, intimate sightlines and state-of-the art sound and video. Listed four times in the top 10 in Pollstar magazine's annual worldwide theater attendance rankings, DPAC is currently the #4 ranked theater in the U.S.
What is up next at DPAC? The premier Led Zeppelin tribute act GET THE LED OUT (April 6), a journey to Oz like no other THE WIZARD OF OZ (April 8 - 13) and Matchbox 20 frontman ROB THOMAS (May 1).
For more information please go to http://www.DPACnc.com.