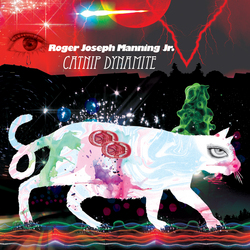 It really gave me the self confidence to trust more of my instincts than my 20 years of musical education
Los Angeles, Calif. (Vocus) November 20, 2008
Singer/songwriter/keyboard wizard Roger Joseph Manning Jr. will release his second solo album, titled "Catnip Dynamite" on Oglio Records, a Fontana/Universal distributed label on February 3. On it, Roger performed and recorded every aspect short of mixing.
"I know all the greatest players in L.A., and I assumed when I started doing these solo records why not call on them," says Roger. "I put together scratch parts for the songs and I realized there's way more personality with my performance. For better or worse you're getting much more Roger here which is better than diluting it with perfect players."
Many are familiar with Roger's work through such original group endeavors as Jellyfish, Imperial Drag, The Moog Cookbook and TV Eyes. Roger has also assisted artists like Beck and Air both in the studio and in live performances. He has worked as a keyboardist, vocalist, arranger and songwriter in a more behind the scenes capacity with hundreds of artists from Johnny Cash to Paris Hilton and on films such as "Lost In Translation" and "Team America". With his most recent appearances on forthcoming records from Morrissey, Glen Campbell and Cheap Trick, Roger has also served as a remixer who has reworked the songs of everyone from Felix Da Housecat to Henry Mancini.
It is these experiences that came into play with the creation of Catnip Dynamite. For example, Roger's six years spent recording and performing with Beck encouraged more of a spontaneous outcome in the studio. Roger notes Beck "always encouraged me to go with whatever my first idea was" while in the recording studio which was applied when recording Catnip Dynamite. "It really gave me the self confidence to trust more of my instincts than my 20 years of musical education," says Roger. "When you're alone recording a solo album…you really start getting in touch with some of the instinctual, inner parts of being a composer."
"Catnip Dynamite" does a great job of referring back to a rich heritage of former eras of pop music - but then catapults it into the future. Make sure to rock out the three bonus live tracks on the U.S. release which includes a cover of the Thomas Dolby track "Europa and the Pirate Twins," a raucous live version of Roger's previously released track "You Were Right" and an epic cover of Elton John's "Love Lies Bleeding."
The infectious track "Down In Front" musically touches on the early '70s British scene when artists like Sparks and Alvin Stardust ruled the airwaves. "I've always found great power and joy from rock that was still tough and happy," says Roger. "Down In Front is in celebration musically of AM radio where long-haired tough rock n' rollers weren't scared to make a track that was happy but still kicked ass."
Kicking ass is right. Roger Joseph Manning, Jr. might just achieve world domination - of the world of pop, that is.
Oglio Records is a Fontana/Universal distributed label and throughout it's 15 year existence to date has released music from Brian Wilson, Cyndi Lauper, Wisely, Shonen Knife, Margo Guryan, Ray Manzarek, Robby Krieger, power pop cult favorites 20/20 and more.
Track Listing
01. The Quickening
02. Love's Never Half As Good
03. Down In Front
04. My Girl
05. Imaginary Friend
06. Haunted Henry
07. Tinsel Town
08. The Turnstile at Heaven's Gate
09. Survival Machine
10. Living in End Times
11. Drive Thru Girl
Bonus Tracks - Live From Fuji Rock, Japan
12. Europa and the Pirate Twins
13. You Were Right
14. Love Lies Bleeding
http://www.rogerjosephmanningjr.com
http://www.myspace.com/rogerjosephmanningjrmusic
http://www.Youtube.com/rjmanningjrmusic
http://www.oglio.com
###